Last week review 32-2021
|
Weekly review 32-2021 and it returns after changeable weeks a little summer, at least also on the weekend 😉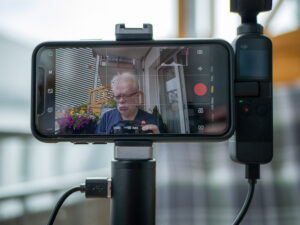 This week was once again the DJI Pocket 2 topic and this time it was about useful accessories for the small vlogging camera. Some of it is generally useful for video recording, others like the PygTech holder are of course specifically for the DJI Pocket 2.
If you don't have the DJI Pocket 2 in the Creators Combo, you'll have to do without the Do-It-All Handle. This extension first of all extends the handle, but also provides WiFi, Bluetooth and most importantly a 3.5mm jack for external microphones. Especially the WiFi option and thus the possibility to control the small camera remotely via smartphone should not be underestimated. This expands the possibilities of the small camera. If you don't need this, but still want to connect external microphones, e.g. your own lavallier or wireless microphones, the Boya adapter is a good choice.

But also the Freewell ND filters or the Ulanzi handle with built-in power bank improve the application possibilities of the DHJI Pocket 2. The ND filters I bought finer gradations, because the DJI Pocket 2 has only a fixed aperture and you can not stop down. The filters are only quite small and accordingly you have to be careful when you put a filter on the camera. Overall, the accessories make the DJI Pocket 2 a versatile camera.
Then this week the August updates for Windows in its various versions were distributed. Meanwhile, it is already clear that there is probably again a security vulnerability in the printing area, which Microsoft must fix again. Through the now distributed update, 50 security holes are closed, including 3 that Microsoft itself classifies as critical. But a Windows 10 is also a complex system, unfortunately not a month goes by without security holes having to be plugged.
All in all, again very eventful weeks. I hope you like the articles and I am looking forward to your questions and comments.
ciao tuxoche