Wireless audio with the Comica Boom X-D
|
Especially when filming outside, the placement of the microphone becomes more difficult and when you are alone, a lavalier microphone is usually used.
Introduction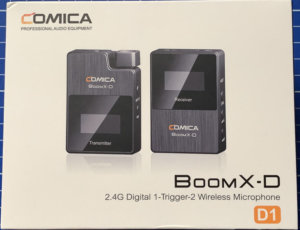 If I film outside for my Youtube channel and still want to have a good sound quality, then almost only the use of a lavalier microphone comes into question. The sound is recorded with a smartphone or the Zoom H1n, and later synchronized with the sound of the camera.
It is a little easier to do this with the Boya BY-M1, for example, which is equipped with a 6m cable. But it is limited on the one hand and then lies around. So it becomes a stumbling block.
Meanwhile, there are some, even for us amateurs affordable radio links that no longer have these disadvantages. I decided after some research for the Comica Boom X-D1. And for this I once recorded the following video:
Equipment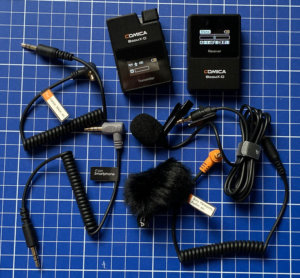 The Comica Boom X-D is available in 2 versions, the D1 with one transmitter and the D2 with 2 transmitters. The transmitter and receiver have built-in batteries that are charged with the included USB-C cable.
The transmitter has a built-in microphone, but there is also a lavalier microphone included. Nicely done, the microphone's 3.5mm jack plug can be snapped into the transmitter part. This should ensure that no connection comes loose.
Then there is a connection cable for Canon/Nikon and another for Sony/Panasonic as well as a cable with a TRRS plug for connecting to a smartphone.
Handling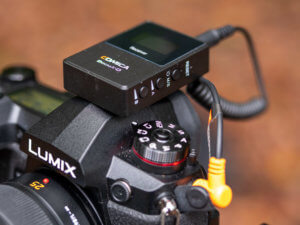 There is a button to pair the transmitter and receiver, but in most cases the two find each other directly. Both the transmitter and receiver have a clip that allows the receiver to be slid into the camera's accessory shoe.
Select the appropriate cable for the camera or smartphone and decide whether you want to use the transmitter directly or with the lavalier microphone, and you're ready to go.
Then you just have to set the recording level correctly. Lumix cameras seem to need smaller settings, but you'll have to try that out.
The audio quality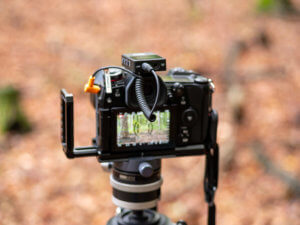 You can judge the quality for yourself in the video linked above, because I left the audio part completely unedited there. I would call it quite good, and in the postprocessing e.g. in Da Vinci Resolve you can still adjust some things.
And of course you should make sure that the maximum range, which is given as 50m, is not exhausted. You should also pay attention to your surroundings, it can also come to interference if too many Wifi networks are present on the 2.4 Ghz band used here.
Conclusion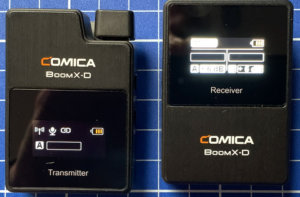 DThe Comica Boom X-D is well equipped and the quality is quite okay. The set is small and light and can always be carried around. A little annoying are the permanently installed batteries and that no storage bag is included. For the latter, however, I may still find a solution.
ciao tuxoche