Rode smartLav+ microphone
|
Audio recordings for screencasts and tutorials can be done in different ways
Til now i recorded screencasts to show you little tipps and tricks about Photoshop or Lightroom. I used  a t.bone USB microphone and the  screen-cast-o-matic  software for recording the desktop. A couple of times i used the [post id=888]Microsoft HD Webcam[/post] for the takes, which is alright, as long as the webcam is only used once in a while.
But the video qualities of the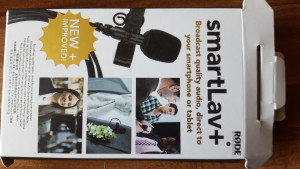 [post id=976]Lumix G6[/post] are better than with my Canon cameras, this is the reason for choosing the Lumix cam for my tutorials. I own a  Rode Videomic, which delivers very good audio quality, but this combination is not ideal if the distance between the object and the microfone forces noise and hall effects in the audio file. So for audio recording its a lot better to record audio at its source 😉 therefor i bought the Rode smartLav+ microphone, which is small, so it doesn't attract additional attention. The recording is done with your smartphone.
Let's watch the video 😉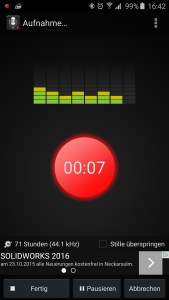 Unfortunately Rode itsself offers an app for iOS only, but there are a couple apps available for Android operating syystems, which are useful. I tried the  RecForge II app and the  SmartVoice Recorder app, i liked the later one a lot more ;-). This doesn't have as many setup option but it does what it is supposed for wihtout any problems, and sharing the resulting audio files via DropBox or with the X-File App to a windwos share is no problem. But maybe you'll try it out yourself, which app is the best for you 😉
I record in the  .wav format and after sharing the file via  DropBox i can add an additional audio track within Adobe Premiere Pro and render the video. Other formats are not needed, at least for me.
The final processing in Adobe Premiere Pro is no issue, the only you'll have to do is to sync the audio tracks, the one from the camera and the one from the smartphone and you're all set 😉
I like the  SmartLav+ very much, and the combination with a smartphone is very compact to record audio.
Did you make the same experiences? Just let me know in the comments and questions are welcome too
ciao tuxoche