Last week review 36-2022
|
Weekly review 36-2022 and this week it has rained at least a little, certainly not enough, but as no rain at all 🙂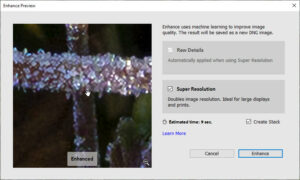 This week was about enhancing images using the "Enhance" feature in Lightroom Classic.  The feature, while not new, is very hidden. This is reinforced by the fact that this feature is not in the Develop module. It can be used to improve the sharpness of photos if you want to crop very heavily and also have such crops with enough resolution for large format prints, for example.
For images with slight blurring it is not even necessary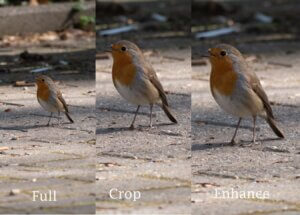 increase the resolution. However, if you decide to do this, images are created in DNG format with a resolution 4 times higher than the originals. And with that, you gain massive reserves for cropping and/or larger prints.
With this option, you can also crop with smaller sensor sizes, such as with the Lumix G9, and still get a very good resolution. Thus, this tool is predestined especially for the field of wildlife and perhaps landscapes. So you have such a tool in Lightroom Classic and depending on the camera you can also use their HiRes function, which is also built into the Lumix S5, for example.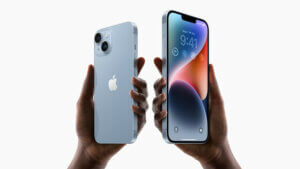 Then of course this week was Apple Event, where Watches but especially the new iPhones were presented. iPhone 14 and iPhone 134 Pro form 2 new models with the improved A16 Bionic chip. Thus there are accident notifications by Satelitt (however probably only in North America) and that some models probably set completely on eSIM. Something has changed in the cameras insofar as at least the Pro models can now record with a 48 MP camera.
We'll have to wait and see whether this really improves the pictures compared to the iPhone 13. Thanks to the faster chip, the Kinomdous is not only available for Full HD like in the iPhone 13, but now also in 4K. This is a logical development. And ProRes format is still only available in the Pro model.  As things stand, prices start at 1300€ for the smallest Pro model.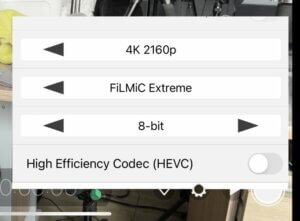 Will FilmicPro change the license and switch to the subscription model. That would be a shame, because apparently circulating here price of 3-5 € a week. Then you would come to more than 100, – € per year and that would be completely unacceptable. Admittedly, the app can do a lot, especially on the iPhone, but what would not be worth it to me.
It will depend on how the manufacturers of FilmicPro decide, but a subscription model I have accepted so far only with Lightroom/Photoshop, because I use the two programs almost every day. But if such prices would prevail with FilmicPro, then at least for B-Roll I can almost buy another camera, which then offers me some additional advantages. In the meantime, however, there is a statement on the website, but it is not clear what it means for users of FilmiPro.
All in all, another very eventful few weeks. I hope you enjoy the articles and look forward to your questions and comments.
ciao tuxoche