ON1 Photo Raw 2017 Part I
|
On1 is a software company which first of all produced helper programs like Perfect Effects and Perfect Browse.
ON1
The company announces a new and most advanced RAW editor since the end of last year. Since this editor wasn't available as announced in october i made a first look on the precursor ON1 Photo 10.5.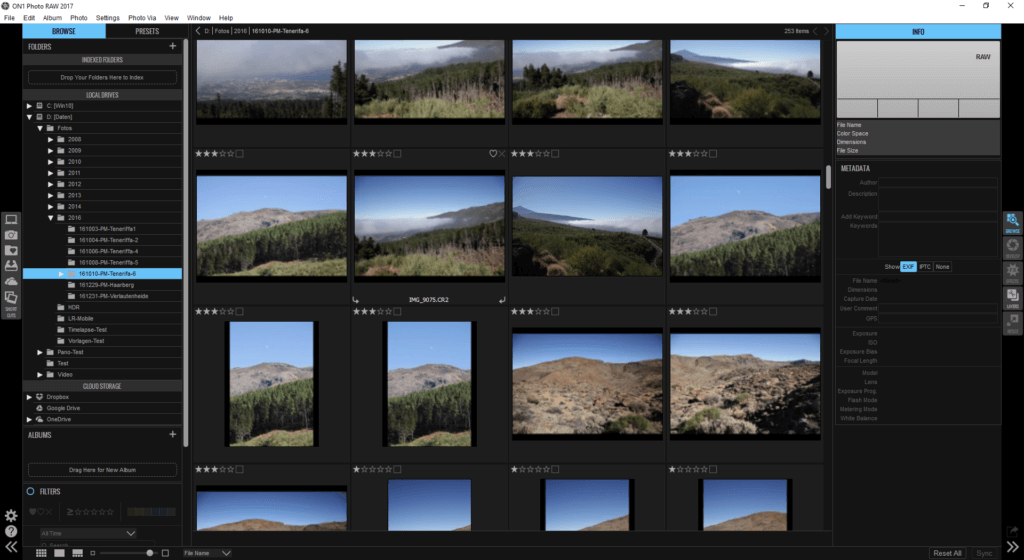 Meanwhile  ON1 Photo RAW 2017 is available for Windows and Mac operating systems. And there is a 30-day trial version so you can test the app yourself.
ON1 advertises as a side blow to Adobe that you don't need a subscription modell and buy the full version for of ON1 Photo RAW for  119,– $ . On the other hand ON1 offers a subscription modell for 149,– $/year which includes all updates. This is a price category like Adobe CC but there you'll get Photoshop CC, so we have to see if ON1 Photo RAW can campete with the Lightroom/Photoshop combination.
Installation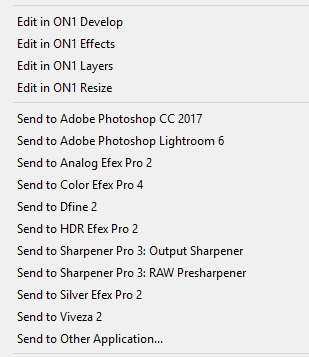 The installation on a Windows 10 system was done without any problem. If there are other photo editors installed on the system ON1 Photo RAW includes them in a seperate menu. On my Laptop ON1 Photo RAW linked to Lightroom, Photoshop CC and the Google Nik collection.
Another integration applies to the different cloud services that may be installed on your system. Services like DropBox, Google Drive and Microsoft One Drive are recognized and included in the ON1 Photo RAW installation, but ownCloud or Nextcloud services are missing. . Es fehlt aber z.B. ownCloud bzw Nextcloud.  Since all these cloud services represent the cloud folders as a local folder usually in the users profile i can't see the additional benefit in the integration.
The app
Starting ON1 Photo RAW 2017 the app connot deny the heritage from  ON1 Photo 10.5. But the company improved a lot, even the graphical user interface looks the same on first sight.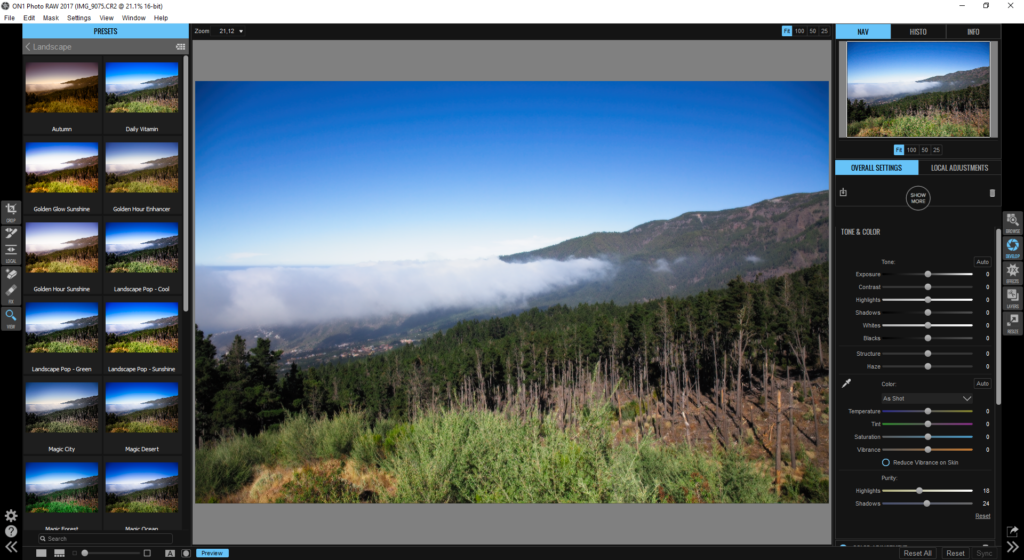 ON1 Photo RAW 2017 now is a non destructive RAW editor and compared to ON1 Photo there is no need any more to generate a Tiff file first. And there is no catalog like in Lightroom and no need to import your images first.
But take a look at the following little video:
As you probably noticed in the video there are some problems displaying the thumbnails in Browse-mode and with the orientation of some images, even if you corrected the orientation and activated the usage of sidecar files.
Lightroom  is not known to be the fastest RAW converter but for a comparism i converted 207 images from a timelapse sequence with Lightroom and with ON1 Photo RAW 2017. Lightroom needed 15:52 min exporting these images as JPEG files, but ON1 Photo RAW almost needed twice as much time, 31:13 min on my latop doing the same job. In addtion the export job runs in the foreground so while the export process is running you can't do anything else with ON1 Photo RAW 2017.

I can't understand the integration of the cloud services, because all cloud services i known transparently integrate into the users profile with a seperate folder. And i miss the alternatives like ownCloud or NextCloud, only the big players like  DropBox, Google Drive and Microsoft One Drive are integrated. .
Further points on he cons list are the missing lens profiles and the app doesn't support other languages.
In the second part we'll take a look at the layer function and the indexed folders.
ciao tuxoche