Owncloud,Android und Windows 10
|
This article describe my experiences which i made with a Owncloud since last year November.
Introduction

Quite  a while ago i reported that i installed Owncloud in a subdomain of one of my webspaces, especially to have space enough to backup my bigger blogs. This was the inital trigger to learn more about ownCloud.
I installed the clients for Windows and Android systems to access to my files stored in my own cloud. Compared to the DropBox App the ownCloud App doesn't copy the files stored in the cloud on the local device, which too me is an advantage if you're a smartphone like the Samsung S6 which can't be extended via a memory card.
But besides keeping your important files in one place and being able to access them via internet and almost every device ownCloud can do more for you 😉 it manages your calenders and your contacts and synchronizes to your devices too.
Requirements
But before you synchronize your personal contacts and/or calenders you hold on and think about an encrypted connection ;-). As described in my article [post id1386]SSL without a official certificate[/post] i described how to use a self-signed certificate. I oyu're already having a offcial certificate you dont't need this workarround.
Android
If you want to synchronize you calendar and your contacts on your smartphone you always find after a short research the apps  CardDav and CalDav .  But i didn't like it to install 2 apps so i searched for apps including both capabilities in one app. I found Easy Dav which i instaled on my Tablet and   DavDroid, which i installed on my smartphone.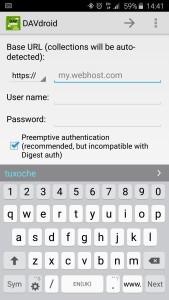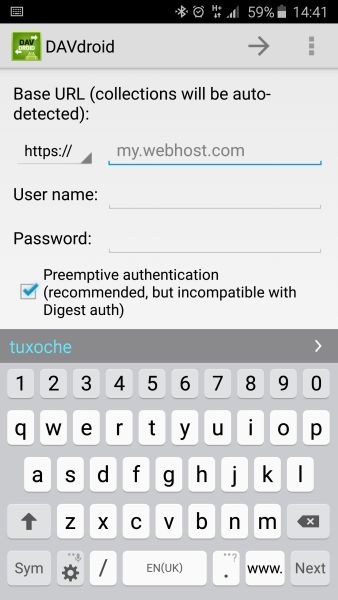 With both apps synchronizing is no problem but Easy Dav made problems with the self-signed certificate i use for my ownCloud installation. DavDroid recognizes that you're using a self-signed certicate but it display the certicate data and after that you can decide to use this certicate to establish an encrypted connection. Later on i found an  App which allows the installation of those certicates on your smartphone.
Both apps are to figure out the Urls for CalDav and CardDav on their own ((sog. Well-known Urls).
After that the app shows you the calendars and let you choose which calendars to snychronize.
After synchronization all calendars are available in the smartphones standard app S-Planer.
Since DavDroid is part of the account management schedules from your ownCloud calendars and let's say your Google calendar are displayed in the app. Maybe it was my fault that reminders, which warn you 15 or 30 minutes weren't taken over, because i used a Google calendar to export as ics file and import it into the ownCloud calendar.
Conclusion
We now have a opportunity to synchronize calendars and contacts with our own cloud and your Android devices. And they aren't only available more important you can add/alter a schedule and it's synched right away with the ownCloud instance. But most important you control your own data.
In the secont part we'll take a look on Windows 10 and iOS.
ciao tuxoche