ON1 Photo RAW 2017 II continues the first part , which took a look on the general abilities of the app as a RAW editor. Today we take a look on the layers and smart collections.
Indexed folders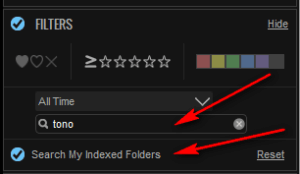 Even though the app competes against Lightroom and ON1 proves ON1 Photo RAW works without a catalog you can manage your images, add keywords and filter for a certain keyword or other cirteria in search. Added keywords are stored in the on1 sidecar files.
Filter will show your favorite images or files with a certain color symbol applied. Just like in Lightroom color symbols can be added to the images via number keys. Besides this you can filter by a certain capturing date or a period of capturing time.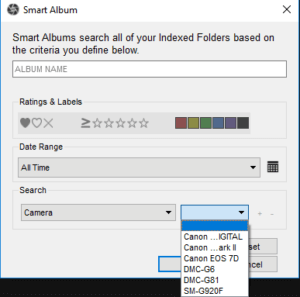 If ypu want to extend the search by keywords or other criteria you have to add the folder to the list of indexed folders. After doing this you can define smart album just like the smart collections in Lightroom, were images are dynmically added to the album by adding the appropriate keyword.
You can combine certain criterias like aparture, exposure time or ISO setting, but you can't filter for a certain lens.
And i didn't find an option to define a criteria that a certain keyword isn't applied to the images i'm searching for.
This kind of management is pretty basic, but to manage your images let's say for the last vacation or certain genres like landscapes,architectur, macro and so on is good enough. For adding keywords just type the first letter of the desired keyword and all keywords starting with this letter are displayed to the user.
Local corrections, masks and layers
Of course ON1 Photo RAW 2017 offers local corrections for example darken the sky or increase the contrast of a certain area.
ON1 Photo RAW also can mask certain areas to make them disappear in the further image processing.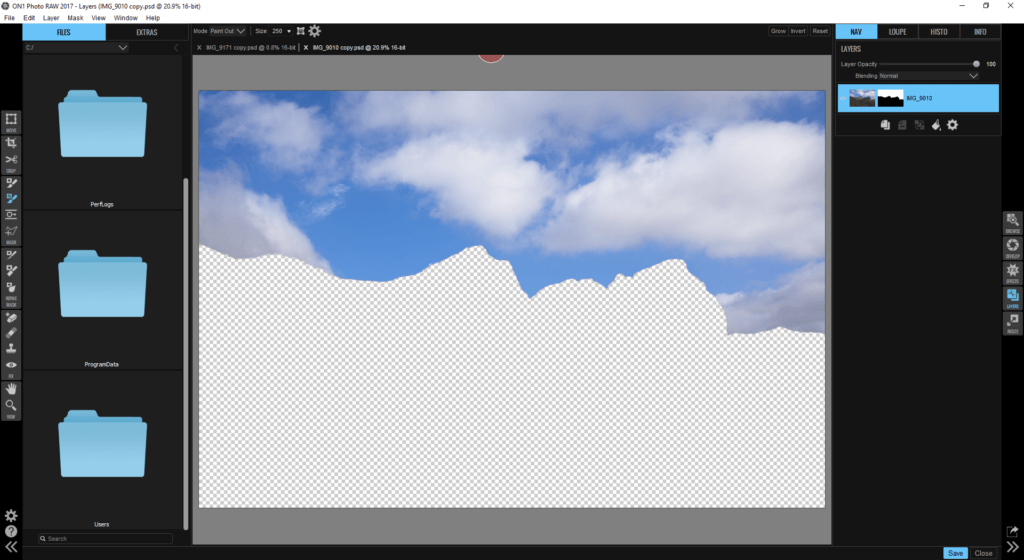 Just to say a tool like the Quick mask tool works a little bit more comfortable compared to the tools in Photoshop. Just take the mask brush over the sky to do a complete for the sky area in the image.
ON1 Photo RAW 2017 offers the layer technique, which allows certain image optimising or manipulations.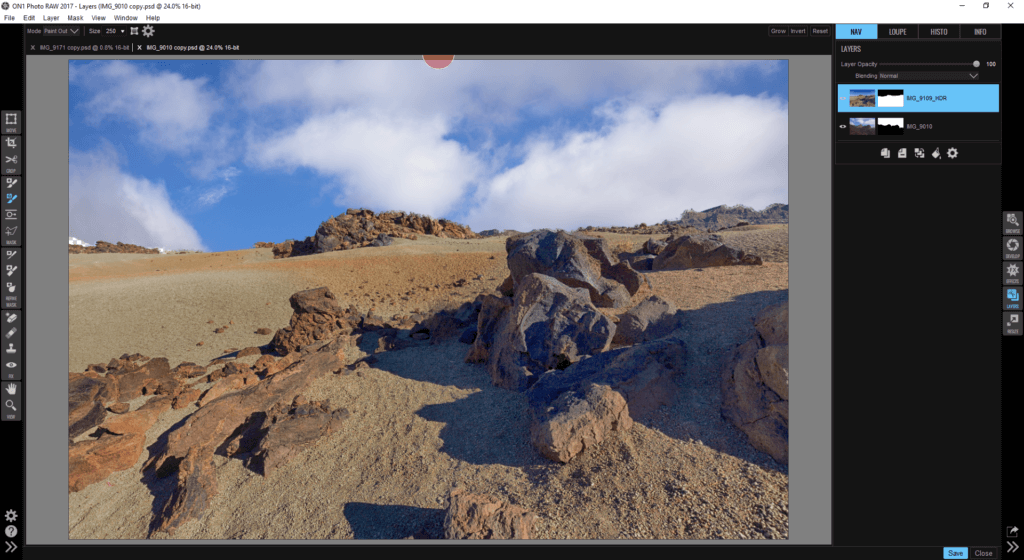 With layers you can apply clouds into an image like with Photoshop CC oder Affinity Photo. And the layyers are compatible to Photoshop CC which means you can read in the psd file into Photoshop CC and work on the layers.
But lets take a look on the video on layers:
But like shown in the video there are some problems with errors and with the stability of ON1 Photo RAW 2017. On the other hand ON1 Photo RAW is at the beginning. And maybe i'm stuck to the workflow in Photoshop CC but some handling seems to be to complicated like changing from the devlop to the layers module.
Conclusion
ON1 Photo RAW 2017 is a pretty good peace of software, even if you're missing some features. And maybe for some of us ON1 Photo RAW would be anm alternative to Lightroom. Too me for a switch to ON1 Photo RAW from Lightroom one import feature is missing, that is reading XMP files to import the keywords mainly like in Daminion software.
Measuring the software on its price especially on the price for the subscription model for 149,– $/year you'll better stick to the combination of Lightroom/Photoshop CC, because this combination is more advanced. But even the license price depends on how many updates ON1 will release at a price of 99$.
What do you think is ON1 Photo RAW an alternative? Leave your comments and/or questions.
ciao tuxoche