Affinity Photo the Photoshop alternative?
|
Affinity Photo the Photoshop alternative is heared a lot of times these days, especially since the company launched a public beta test for the Windows version of the program.
Introduction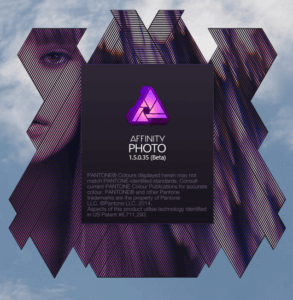 Affinity Photo is arround for quite a while but for Mac OS only and there the app recieves good reviews. Now the company made a Windows beta version available, which implements functions of the next version 1.5. I'll assume that the Windows version is sold for the same price like the Mac OS version and 49,– € really are not to much for a good image processing program.
The software company emphasizes the their app doesn't need a subscription model 😉
For downloading the beta Windows version a short registration is needed.
The program
Affinity Photo's approach is to be a  Photoshop competitor, so there are no function to manage your images like in Lightroom or in Adobe's bridge. Affinity Photo can be defined  as an external editor in Lightroom, but opening RAW files is also possible.
The tools
Affinity Photo implements the basic tools for photographers like expsoure,white balance, saturation, contrast and others. Also a seperate handling of highlights and shadow areas or correcting chromatic abberation are available functions.
Of course tools for correction,stamping or selection are available. Changeing contrast or exposure besides the opportunity for a numerical input or changeing via sliders a few presets are presented to the user.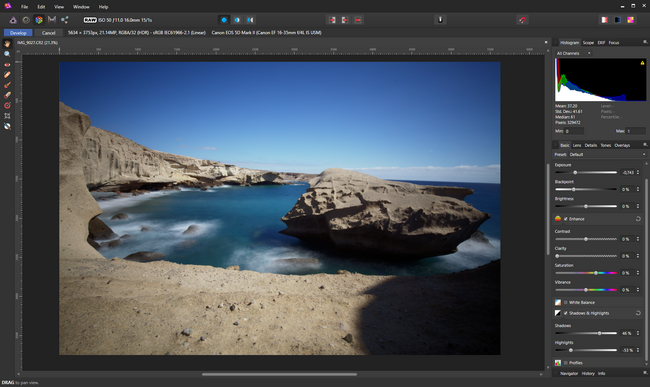 And filters for sharpening, de-haze and noise reduction and further (effect) filters are available.
Layers and masks
Once in a while a Lightroom user will need Photoshop because of the layers and/or masks. And even this task can be handled by Affinity Photo, it offers layers and masks too.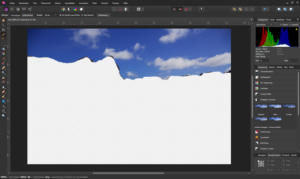 Both layers and masks provide selecting and editing different areas of an images seperately. Compared to Photoshop CC maybe you'll miss the smartobject feature, which is needed to change settings later on.
Both layers and masks are compatible to Photoshop CC meaning saveing your result in Affinity Photo as a  PSD file the file can be read with Photoshop CC at least as far i tried it out. I'll assume it also works  vice vera saving a file in Photoshop and reading it in Affinity Photo. There is also a dialog to adjust the mask and output as a new layer with mask.
Export
Affinity Photo uses a file format of its own to store  the results of your editing session, but you export the resulting image as  JPEG,Tiff or PSD . This allows to archive the files or further editing in Lightroom.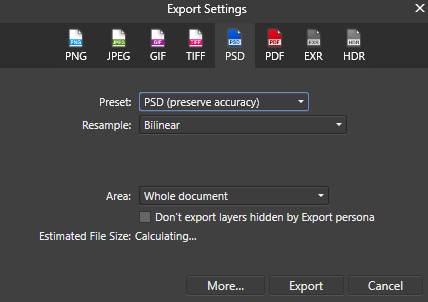 HDR and Panorama
The Windows beta version offers new functions for mergeing HDR images and stitching panoramas. The base images can be either the RAW files or already prossed 16-Bit Tiff. I prefer the later one and use processed 16-Bit files for HDR images.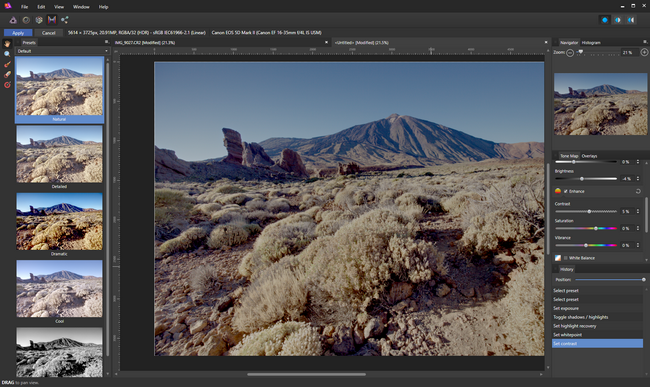 Compared to other HDR tools the resulting image in Affinity Photo is too bright, but besides this the functions does a good job.
The same is true for stitching panoramas, but just like in Lightroom 6 Affinity Photo can'T handle sphere panos. If you're doing sphere panos you should get yourself PTGui or Panorama Studio or even the opensource project Hugin.

Cons
Besides the question if it required to implement functions like HDR mergeing oder panorama stitching too me the most important point of criticism is the lack in performance.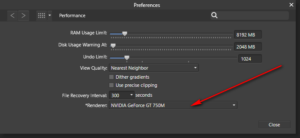 Starting the program being installed on a SSD drive and changeing the display after editing the image is awefully slow. I know it is a beta version maybe with a lot of debug code in it, but i didn't expect the program to be this slow.
Same is true to read in a raw file and convert it for editing purposes. This must be improved for the final release.
And talking about perfromance, even though i choosed to use the GPU in the preferences i couldn't detect the GPU being used while editing images.
Conclusion
Besides the cons which are hopefully corrected for the final release, Affinity Photo is sort of winner comparing features and the price of just 49,– €, assuming that the Windows version will cost the same as the Max OS version. For the ones of you owning Lightroom not as a Cloud version Affinity Photo might be the ideal addition for Lightroom if you only need once in a while masks and/or layers. There are a lot of video tutorials available and an active commutiy where i read smartobjects at least as a feature request  😉
What do you think about Affinity Photo? I'm looking forward to your questions and your comments.
ciao tuxoche