Samsung finally made it
|
Just like the motto "better late than never " my Galaxy Tab S notified me this morning about the availability of Android 6.01.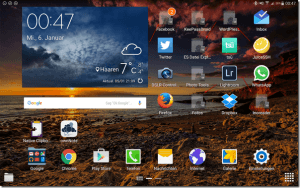 Samsung finally made it to provide an update to Android 6.01 for its top tablet, while other manufacturer are discussing about updateing to Android 7. This means it took Samsung 10 month after the initial release of Android 6 to provide an update. This leaves a question mark to the update policy of Samsung.
With the smartphone Galaxy S6 it took more than 5 months for the update to Android. But why did Samsung need another 5 months to release Android for the tablet?
The update is a little bit surprising, because a couple of days ago you could read in some blog posts, that Galaxy TAB s would not get Android 6, so the tablet would stick to Android 5.
The download size of the update file is a little more than 800 MB and so far devices with LTE are upgraded first. But i hope that Samsung will provide the update for WLAN only devices right away.
The new version promises longer battary life due to an improved energy saving. According to my experiences with the Galaxy S6 this is true.
Ok "better late than never" but the update delays are not acceptable. This issue certainly must be kept in mind when deciding about a new smartphone/tablet.
ciao tuxoche