ON1 released a new version of their Photo RAw image editing software last week. After more than year since the last review of the software, now was a fitting time to take another look at Photo RAW.
Introduction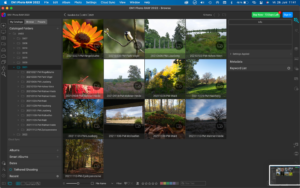 ON1 has now implemented some new features or improved existing ones in their image editing software Photo RAw. In the meantime, tools like NoNoise AI and Resize AI have been integrated into the software, so that they can be used directly from ON1 Photo RAW.
ON1 leaves it up to the user whether he purchases a license or takes out a subscription. With the former one can say with an update then, that are me not enough new functions and I skip this update.
I have recorded a short video about the new features:

What still bothers me little is the catalog view, which is still oriented to the folders in the file system. I would prefer a grid view a la Lightroom, where the photos are presented independently of the order in the file system.
And still cloud services are included, but only the big providers. Custom cloud options, such as via Nextcloud, are missing here. You can help yourself by having the respective folders snchronized in the file system, but an integration would be nicer.
Lens corrections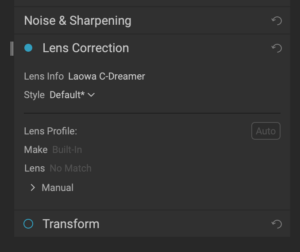 With version 2022.5, ON1 provides a wealth of lens profiles for newer lenses, which have now been integrated into the software. However, the implementation of the lens profiles has also been changed.
If a lens profile cannot be determined due to missing meta data, one has the possibility to adapt such a profile oneself in order to adjust chromatic abberations and vignetting for a specific lens.
You can also modify existing values and save them. The nice thing now is that ON1 will ask the user if this profile should be used, if one detects further exposures with this lens.
Sky replacement
Like many other software tools, ON1 of course has an option to replace the sky portion in an image.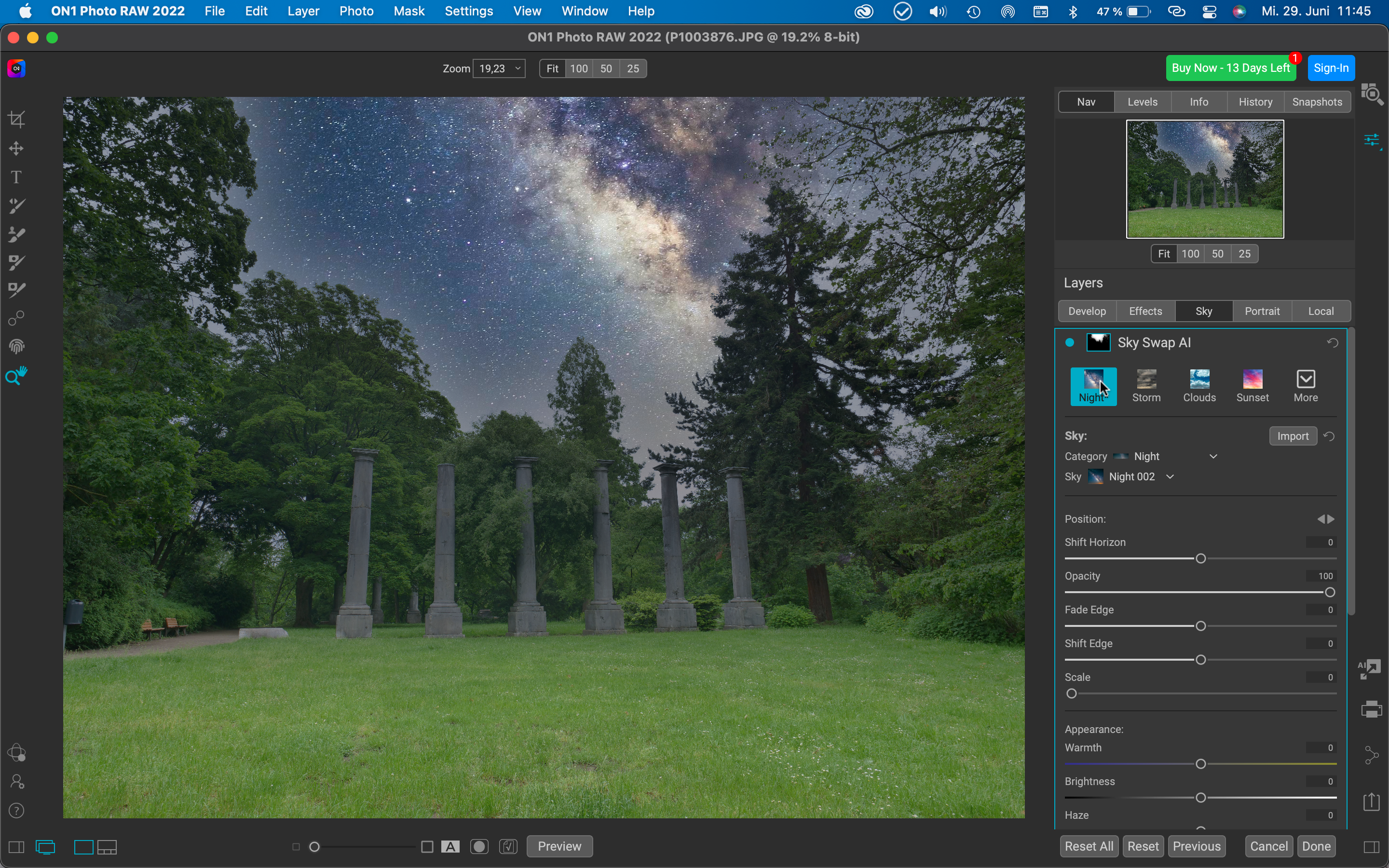 This function has now been improved and actually the images look more coherent. Of course, you have to use a sky that fits the overall situation. Nevertheless, as with Photoshop CC or Luminar NEO, it can happen that the AI replaces or takes away too many parts. This happens, for example, when there are overhead lines in the image.
Resize AI
The function Resize AI is integrated, with which the size of pictures can be changed. This works similar to Superresolution in Photoshop CC.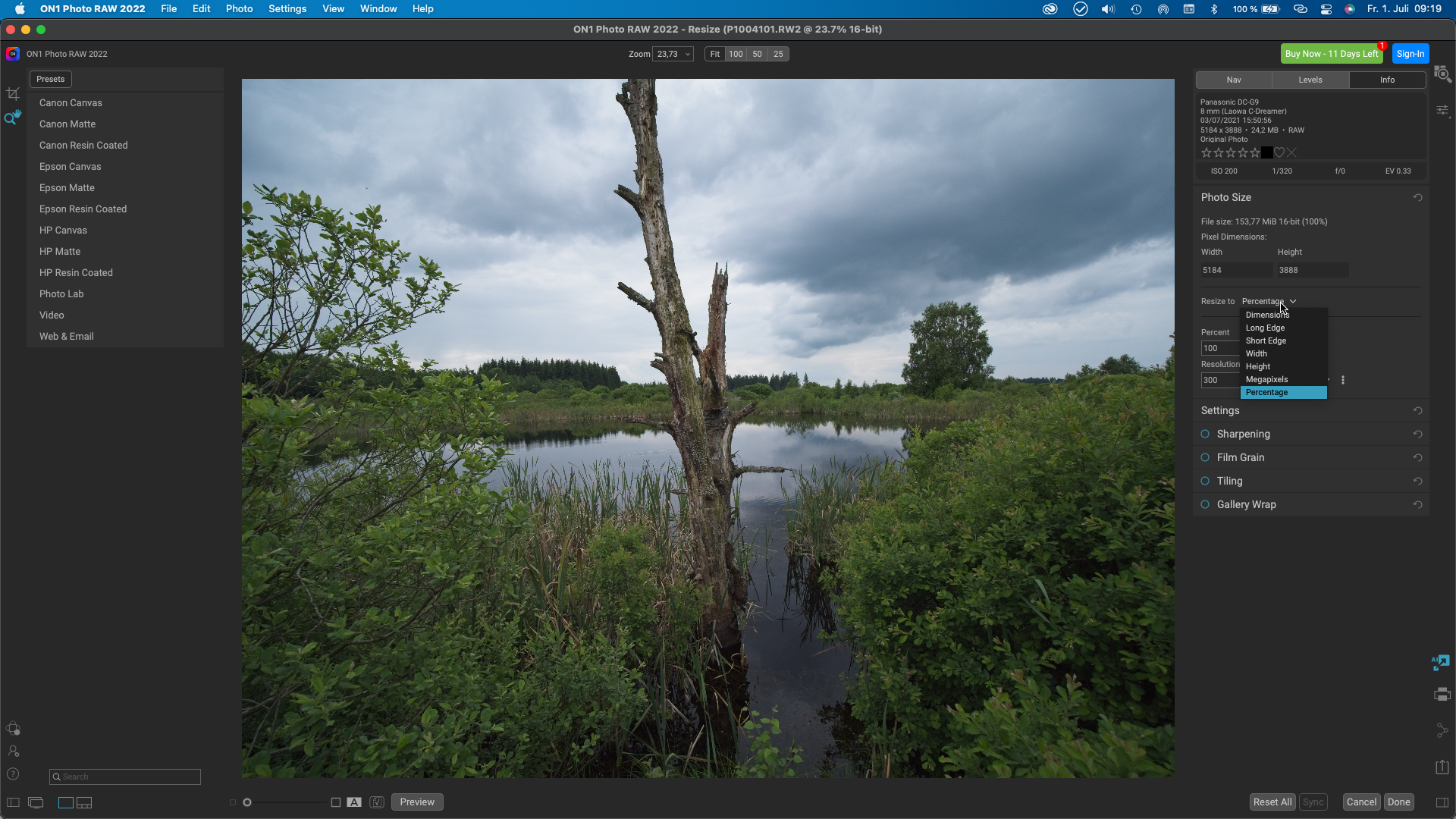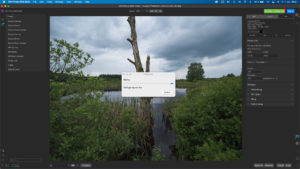 This now allows you to set the resolution of different photos in batch mode based on various parameters.
The size can be adjusted by a percentage or the long edge of an image can be specified in pixels.
The saving is done in PSD format. However, I once had the case that such a file was not readable in Photoshop CC on the MacBook. Maybe I had overdone the resizing by 400%.
Conclusion
ON1 Photo RAW 2022.5 is a complete software that does not require any extra software even for denoising. The price is reasonable and the company gives the user the choice between the regular license and a subscription. The latter offers for 9,41 €/Moant with 200GB more cloud storage.
What do you think of ON1 Photo RAW? Would be interesting to know who uses it.
ciao tuxoche