Topaz Denoise AI 2.3 released
|
Back in February  Topaz Denoise was sold at a special price and i sued the opportunity to get myself a license. Now last week Topaz released an update to version 2.3.
Introduction

Topaz Denoise AI iis a tool specialized on noise reduction and comes in handy for mFT photographers like me, because the smaller sensor of the Lumix G9 has pretty much noise at ISO 3.200. Last week Topaz released the new version 2.3 with a new mode and the promise to optimize performance with better usage of the GPU.
Topaz Denoise is available for Mac OS and Windows 10 and is sold for $ 59.99 at the moment. The new version 2.3 was free of charge but there are discussion that maybe older version of Denoise AI are not entitled for a free update. I can't verify this but when this is true Topaz should think about and offer at least a reduced price.
Here the short video i did:
Results
First of all you should check the preferences because usage of the GPU is not activated automatically.
First for the comparism i processed an image with the old version Denoise AI 2.2.11.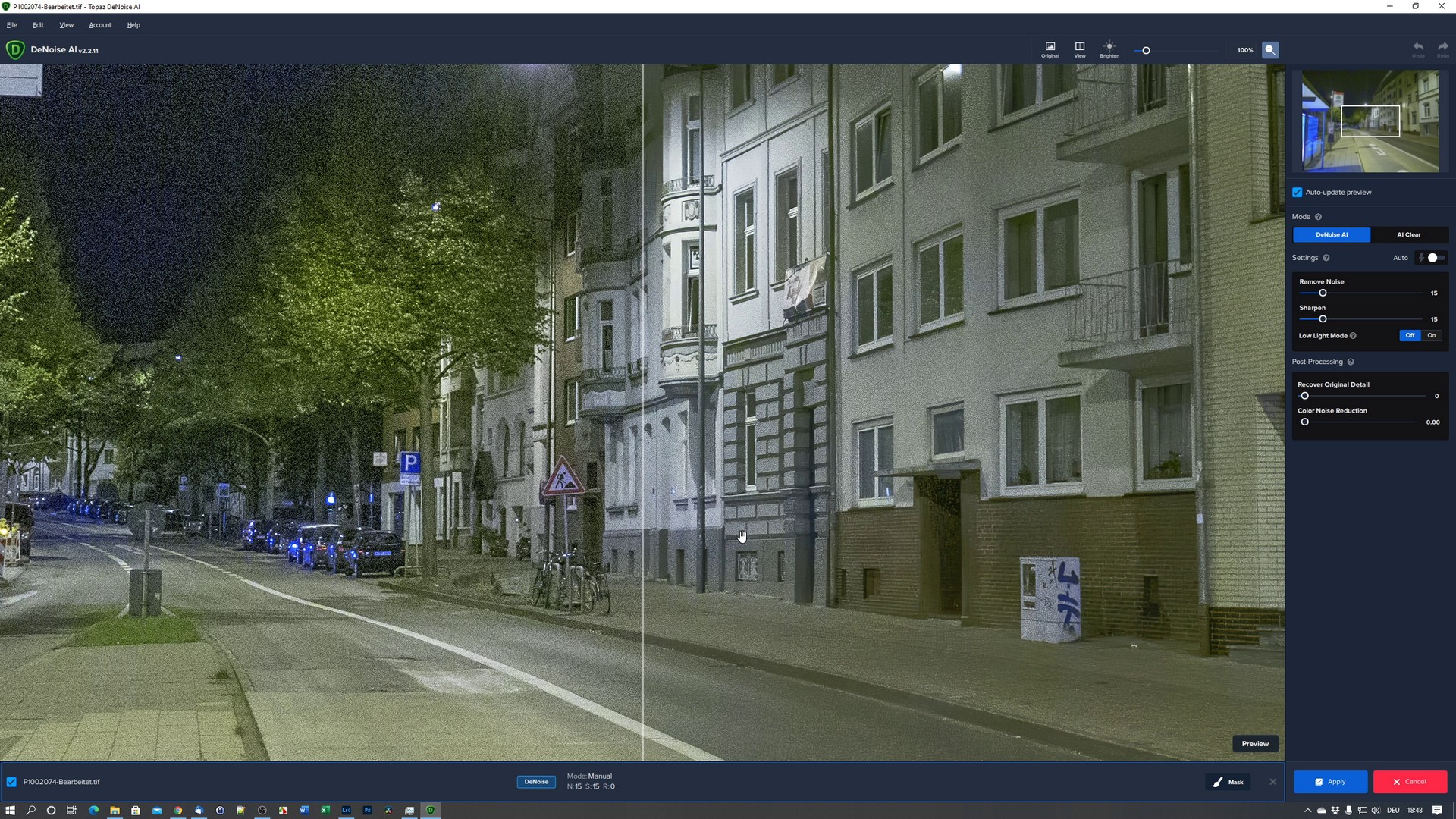 With the default settings Denoise AI already gets pretty good results. But in some cases it is necessary to manual override to keep finer details.
With the new version 2.3 there is a new preview mode were the original and the 3 noise reduction modes are displayed.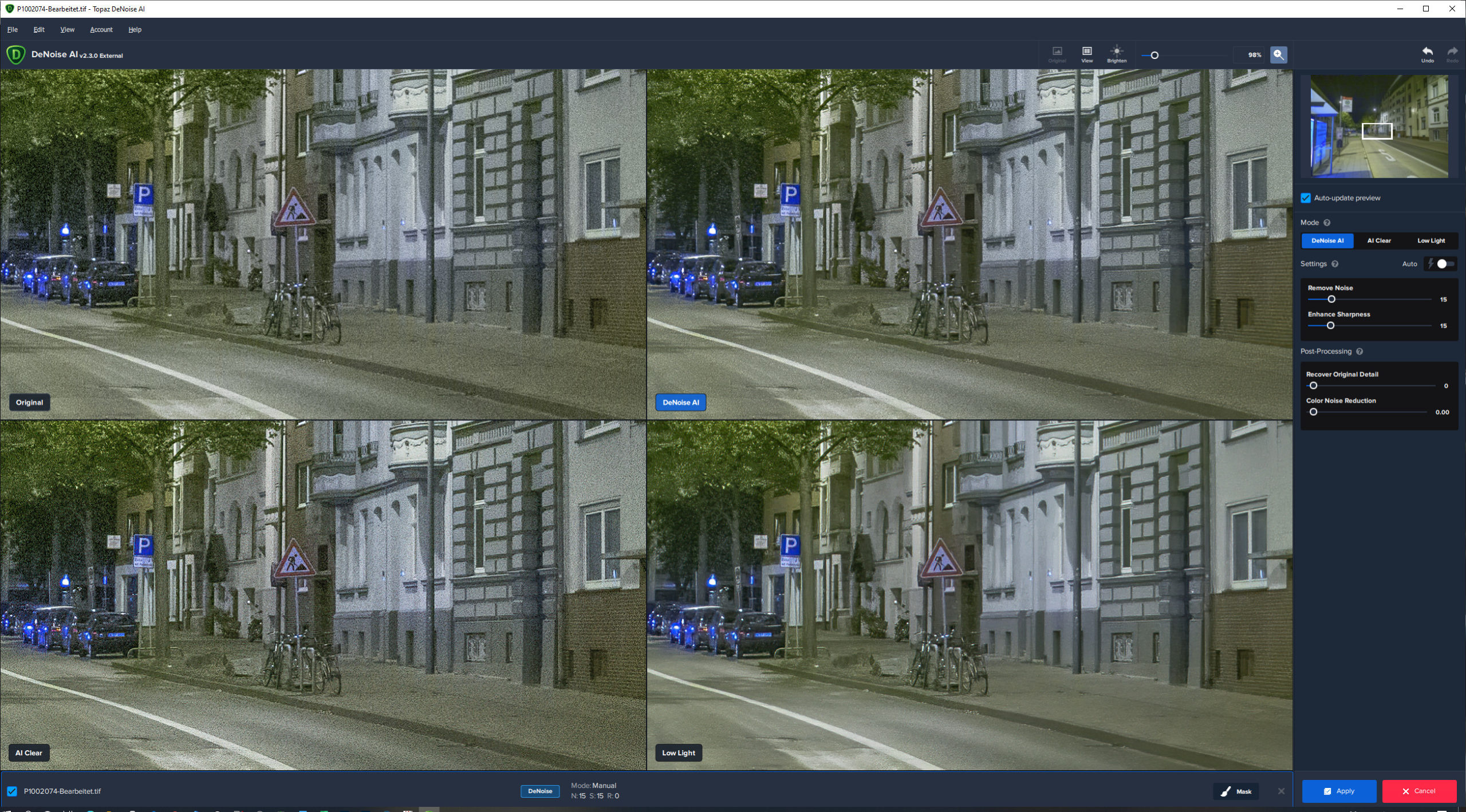 Here you can judge right away which method gives the best results with the default settings. Wit a double-click you choose the selected method for denoising.
There is a new mode "Low Light" but i experienced that the standard Denoise AI method keeps more details in general.
In very dark parts of the image denoising with Denoise AI leads to a muddy portion of the image. Maybe this issue could be solved with the masking function of Denoise AI.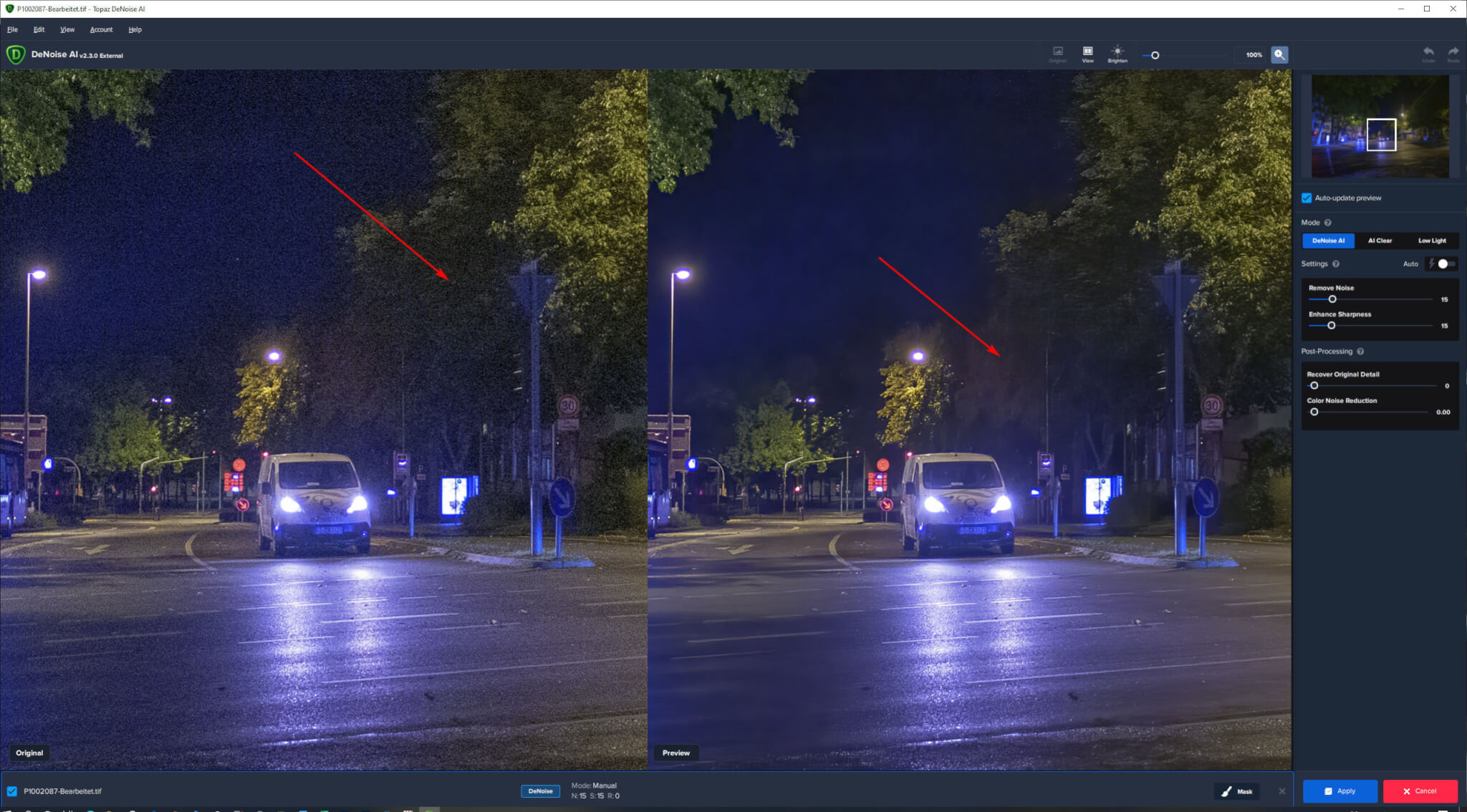 The GPU
The announced optimization of the GPU was missing in my short tests. compared to the version 2.2.11 there was no significant performance gain. With a little tool i could state that some memory of the graphic card is used, but no increase in processing speed.
Conclusion
Gegenüber der letzten Version sind lediglich ein paar Änderungen hinzugekommen. Die neue Übersicht mit allen Entrauschungsoptionen ist sicherlich ein Gewinn. Allerdings habe ich leider keine signifikanten Verbesserungen durch eine Optimierung der Grafikkarte feststellen können.
ciao tuxoche