Photoshop CC 2018 and small changes
|
At the same day as Lightroom CC and Lightroom Classic were published last week there was also a new Photoshop CC 2018 release.
Photoshop CC 2018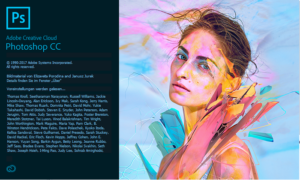 The new Photoshop CC 2018 version fits seamlessly into all the other 2018 software editions released in these weeks, like ON1 Photo RAw 2018, Aurora HDR 2018, which already are in the future. Since Photoshop is a subscription based modell for quite some time there wasn't any scream like with the release of Lightroom Classic.
But i'd expected a little form of proetest from users, because new features in Lightroom and in Photoshop CC pretty clear and too me not enough for a upgrade version.
New features
Masks
Besides improvements in path handling and variable type fonts there are improvements on masking certain areas in a picture. You can choose color or luminositiy to improve the mask further more. But this is an improvement in Adobe Camera RAW which now carries version number 10.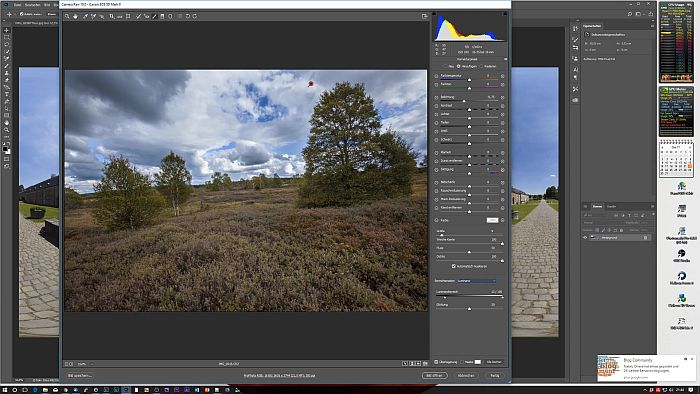 But since Lightroom Classic mainly is sharing the main camera raw modul it offers the same improvements in masking, so actually there is no reason to start Photoshop CC for this.
Open-Dialog
Besides the already known display of the recently opened files now you can open files in Photoshop CC 2018 which were processed in Lightroom CC, and stored into the cloud. Lightroom CC  works with full resoultion raw files but so far i did not try it out for lets say a 120 MB Tiff file.
Sphere Panos as 3D object
In almost every Youtube video about Photoshop CC 2018 one of the mentioned outstanding new features is processing sphere panoramas as 3D object. But in all the videos finished panorama images are used, which were captured with cameras like the Ricoh Theta which offer full sphere panoramas in one shot. These cameras have a resolution of arround 14 MP and the only thing troublesome might be the tripod.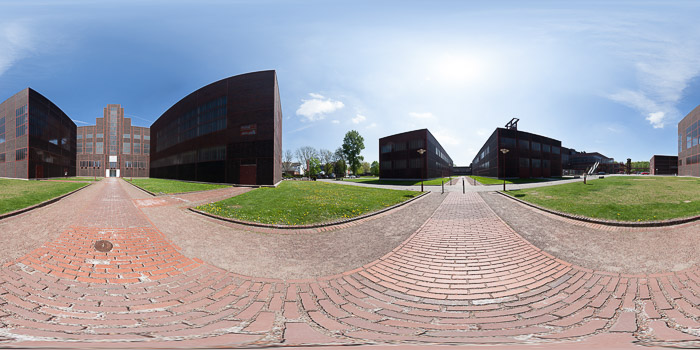 But i checked out first and tried to stitch a panorama take with my Canon 16-35/4.0 L or a fisheye lens in Photoshop CC 2018.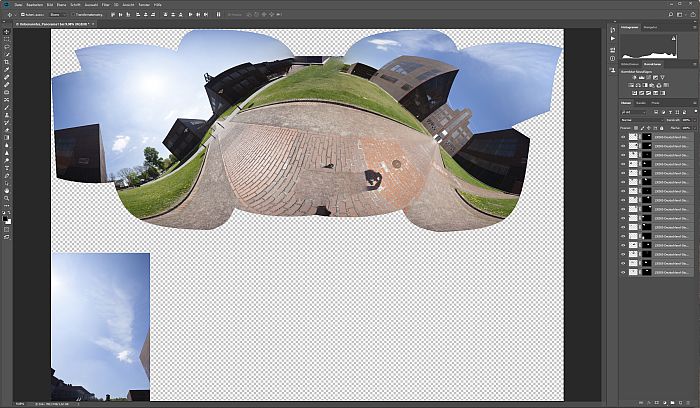 We must realize that Photoshop CC 2018 is not capable to stitch sphere panoramas correctly just like Lightroom Classic. The view of a panoramic shot as 3D object is an interesting feature and makes it easier to mask out the tripod. But doing 1 or 2 nadir shots and stitch all images with PTGui using the viewpoint correction i don't even have to mask out a tripod.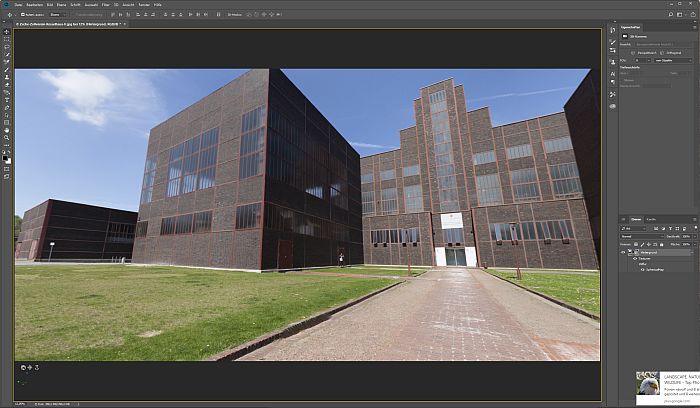 But i doubt if owners of those specialized cameras or from the facebook community will license Photoshop CC 2018 for this feature. Anyway these function seems to have a couple of erros, because while trying out this function i had a couple of error messages saying there is not enuogh memory to finish. But my new desktop pc has 32 GB of RAM and there is graphic card installed with 6 DB of VRAM.
Conclusion
Finally there are not so many new functions implmented in Photoshop CC 2018. The new masking functions are good for people not using Lightroom Classic because of their workflow, but strictly its an improvment to Adobe Camera RAW. The path tools and the variable fonts are not that important too me and the §D object function for sphere panoramas is not that well done, there a re better tools for this.
I think, just like with Lightroom Classic, Adobe would have a hard time to sell this version of Photoshop CC without the subcription modell.
What do think about the new version? Is Photoshop CC 2018 an improvement worth an upgrade in version number? Just leave me your questions and comments.
ciao tuxoche