Last week revew 43-2022
|
Weekly review 43-2022 and this week we had despite the end of October almost summer again, in any case much too high temperatures 😉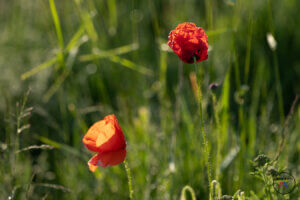 This week it was about the question whether it always has to be a special macro lens or whether in many cases a good telephoto zoom is also sufficient for close-ups. Especially the area of close-up and macro photography opens up many motifs and opportunities and I have always had a macro lens with my equipment, whether it is Canon, Lumix G9 or now the Lumix S5.
Macro lenses are usually around 100mm focal length and offer excellent resolution and detail sharpness even and especially at close range up to the reproduction scale 1:1. But does it really always have to go up to the reproduction scale 1:1. Most photographs, e.g. of plants, flowers or mushrooms, do not require a 1:1 ratio, but perhaps 1:4 or 1:5 or even less. And for this range, a good telephoto zoom in the 70-200mm class or 300mm final focal length is often sufficient. My Lumix S 70-300mm, for example, achieves magnification of 1:2 with very good image quality.
I tried this out over the summer and in many cases the telephoto zoom is sufficient, so you can keep your equipment a bit more compact without having to give up the subject variety of the close-up and macro range.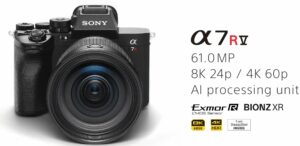 Then this week was the week of announcements. Once the OM 5 was presented, as a new middle class model of the former Olympus group. And then there was the presentation of the Sony A7R5, which has been long awaited.
The OM5 is a 20MPix mFt camera with 10 frames/sec and 30 frames/sec with the electronic shutter. It offers a 50MPix hires image and 121 AF points. According to the first reviews, however, it offers too little new or features that set it apart from the Olympus cameras for just under €1,200.
Then comes the Sony A7R5 with 61 MPix full frame sensor, and improved "all new AF". With Pixelshift it is up to 240Mpix large images that can be created here. In the video area, the camera can of course like the competition also 8K with 25 fps. And RAW video is of course also on board.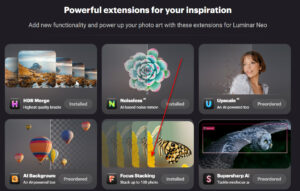 And Skylum has already announced the next expansion for Luminar NEO with Focus Stacking. I'm testing the beta version and I'm curious about the results. Maybe I'll do a comparison with Helicon Focus, a stacking software I usually use.
With version 1.4.2 there is already a small speed increase when using NoiseLess AI. But at the moment there are also cheap offers again and 10€ discount with the code TUXOCHE.
All in all again very eventful weeks. I hope you like the articles and I am looking forward to your questions and comments.
ciao tuxoche