The forest in autumn is always a worthwhile photo motif, especially when the colors on the leaves literally explode. But besides the forest there are also worthwhile motives, e.g. the mushrooms.
The forest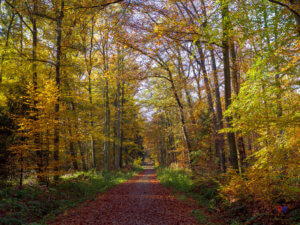 In late autumn or at the beginning of autumn the colors literally explode in the forest. The phase is relatively short before the first autumn storms sweep the beautiful leaves off the trees. But besides the trees with their colorful leaves, mushrooms are especially interesting motives. This article is about the equipment. It can start relatively easy and of course there are hardly any limits to the top.
For the camera, basically every DSLR or DSLM camera is possible. But especially they can store pictures in RAW format, although you can of course also take pictures in JPEG with not too much contrast. Before I used the Canon 6D MK II and now it is the Lumix G9.
I have recorded a video for this:
Lenses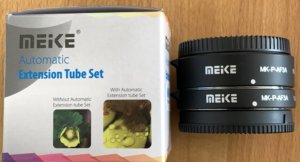 A first start can be made with a kit lens. Of course, the size of the mushrooms is important, but many of them are big enough so that you can easily get by with a standard lens. If you need or want to get closer, you can either use a close-up lens like the Canon 500D or e.g. a Raynox attachment line. With such high quality attachment lenses the optical errors are also kept within limits.
Another option are extension rings, which are sometimes available for little money for different systems. Mostly these are sets of 3 or 2 rings. These can be used very well from normal focal lengths or with small telephoto lenses. If you can also use telephoto zoom, e.g. the almost classic 70-200mm or with the Lumix the 35-100mm/2.8 you have to try.
The optimum is of course a special macro lens like the Leica Macro Elmarit 2.8/45mm or the Canon 100mm/2.8 L IS USM.
Tripod and remote shutter release
Often the lighting conditions are not exactly ideal, so that you usually have to use a tripod. This could be special small tripods, such as the Berlebach Mini, but also any other tripod that can be adjusted close to the ground. Either the tripod legs can be spread very far apart to achieve a position very close to the ground or, for example, a reversible center column can be used.
Even such a Manfrotto Pixi can be sufficient, although in this case the Lumix G9 is actually too heavy. This can be used as a stopgap and you have to make sure that the release does not cause further camera shake.
This can be done either with a cable release or, if necessary, with the self-timer. However, since most cameras can be controlled via smartphone, you can also use this to avoid further shaking.
Shallow depth of field
With such images you always struggle with the shallow depth of field. Here I show 2 examples: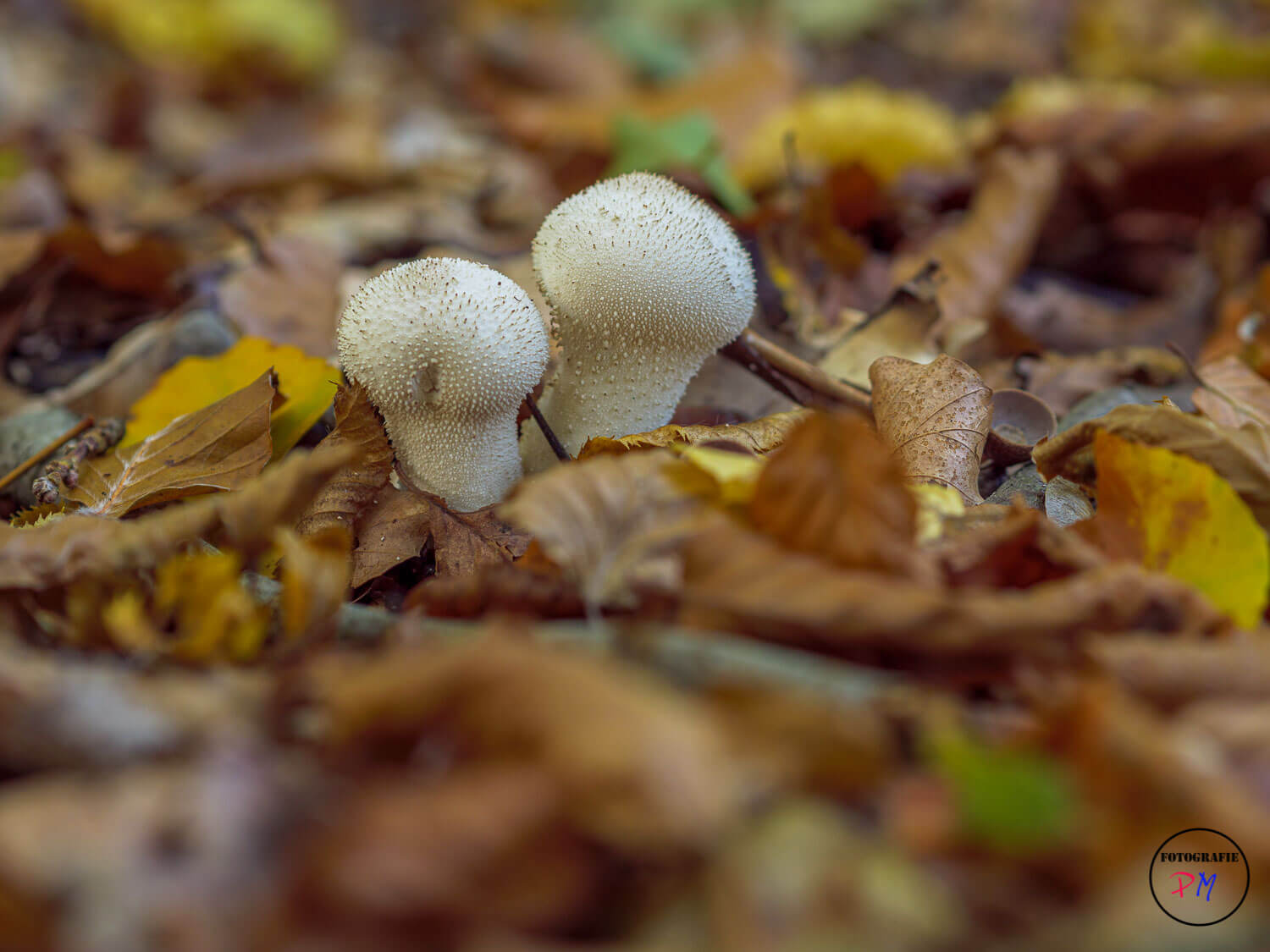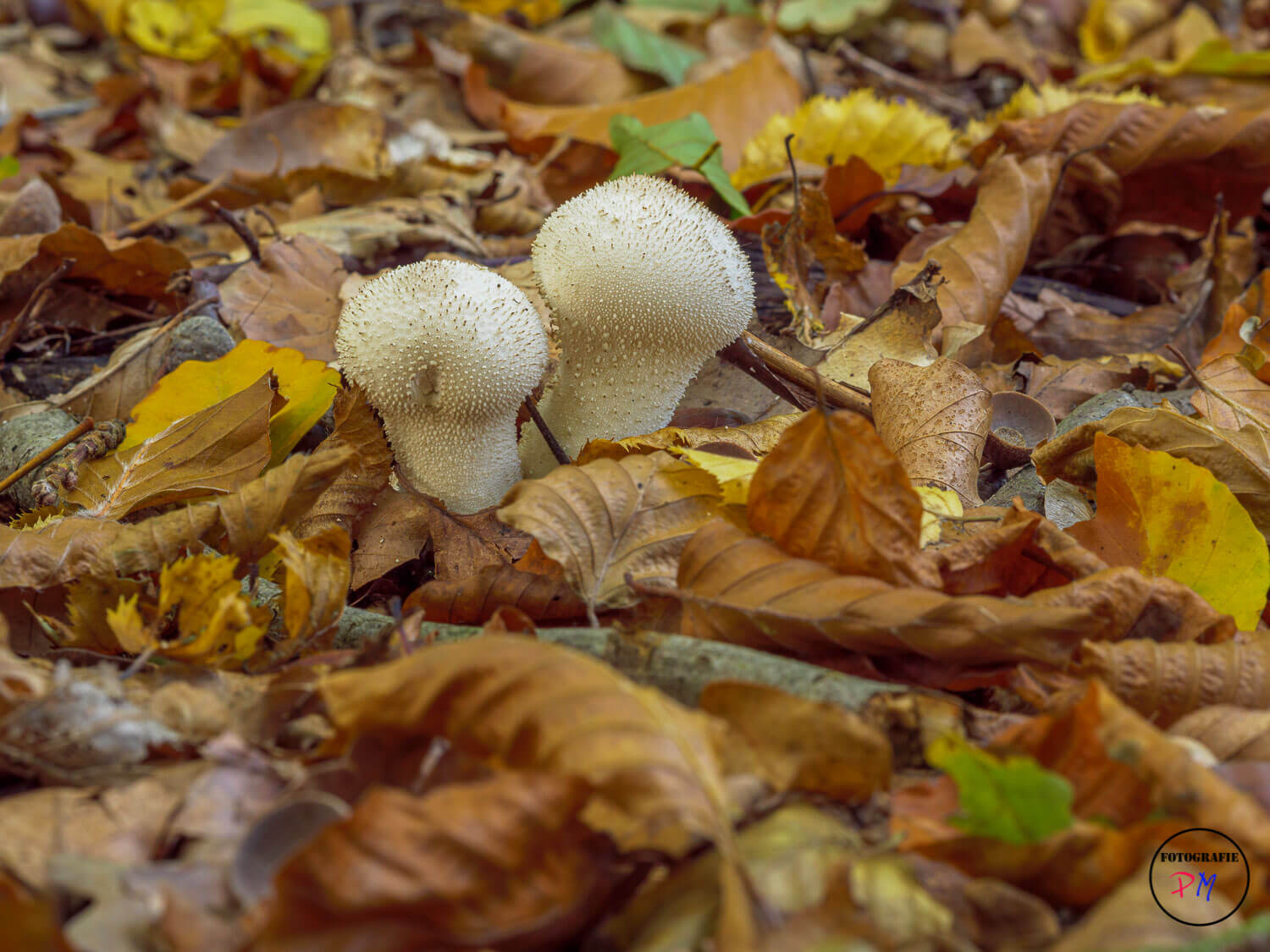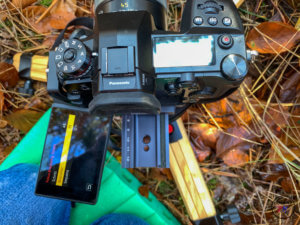 And f 11 is here already the maximum, which one should close the aparture with mFt format, in order to avoid diffraction blur. Fading down further only leads to a loss of detail sharpness. If the image scale becomes even larger, the only thing that helps is a stacked image. Here, many images are taken and the focus is shifted slightly between each image.
Some cameras already have this focus bracketing built in, so you are out of the picture. With other cameras you can use apps to reproduce this function. And if necessary, you can manually create a stack of 10-15 images with a focus bracket and a stable tripod. The later composition of the images can then be done with Photoshop CC or Helicon Focus.
Conclusion
The forest in autumn has many motives to offer and especially those for which you don't need top equipment. Here you can approach in peace and really design.
ciao tuxoche