Mini tripods on the way
|
Mini tripods are defined by their small size and the leight weight to carry them almost everywhere.
Meanwhile there a lot of different types of mini tripods for different applications and for different cameras. They have in common a small size, often less than 25cm. I want to introduce 3 different types which i use and i did a little video on this topic:
Berlebach Mini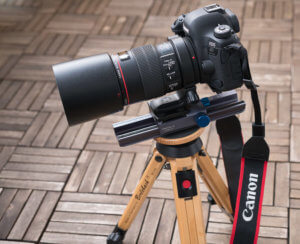 The Berlebach Mini is a tripod almost completely made from wood and is the heaviest with 0.7 kg of the presented tripods here. On the other hand the manufacturer states a payload of 15kg. Maybe the 15 kg might be a little bit too optimistic, but a full frame DSLR like the Canon 6D MK II and 100mm/2.8 L IS Macro lens and in addition a Novoflex Macro Rail is held tightly. But even in combination with a Canon 100-400/4.5-5.6 L IS Telephoto zoom lens the combination is carried safely. The tripod is very good for capturing very close to the ground because the lowest position is 5 cm only.
I did a couple of macro stacks in particular of mushrooms and there is need that the tripod holds the combination without any vibrations. I used a Canon 5D MK II, the Canon 6D MK II and the Lumix G81 in combination with the 45mm/2.8 Makro Elmarit lens..
Manfrotto Pixi Evo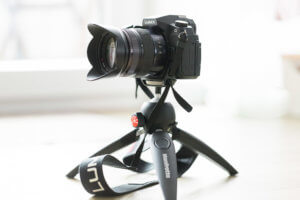 The Manfrotto tripod is much more leightweight and has 260 gr only. On the other hand the payload is 2.6 kg only according to the manufacturer. This makes this tripod perfectly for the Lumix G81 or other smaller system cameras. You can mount a full frame camera like the Canon 6D MK II on it but then you will realize vibrations and its better to use a 10sec. self-timer to be sure that all virbrations will be over before taking the picture.
The tripod legs can be fixed in two different angels but you can't get as close to the ground like with the Berlebach Mini. The minimum height is 10cm, but the tripod is very leight and is sold for a very fair price with arround 35,– €.
Joby Gorillapod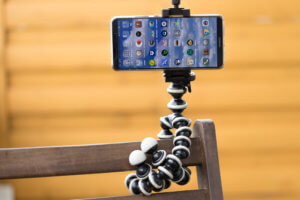 This tripod is very small and very leightweight with arround 50 gr and because the tripod legs are bendable you find  a position to fix the tripod almost everywhere. This can be a limb, a railing or anything else. But the payload of this vey small tripod version is small too just arround 0.3 kg. I used them to fix the position of my flashlights as a fill-in light. Even the small Lumix camera is probably too heavy to be carried securely. But a small smartphone for photos and videos is no problem at all.
But there are other versions of this tripod which are capabale to hold even a full-frame camera securely.
Conclusion
Those mini tripods complete your equioment if you choose the right payload for your needs. The most universal is of course the Joby because you'll find a place almost everywhere but even the much bigger Berlebach Mini is the right one in special situations.
ciao tuxoche