The tripod a meaningful accessory or required evil
|
The tripod a meaningful accessory or required evil because you have to carry it arround and therefore you  don't have it with you if you'll need it.
Lets start with the fact that there is no and only tripod, the personal selection is defined according to your requirements, which are often a compromize. The parameter to deal with are the closed length, weight,  payload and of course the price. A tripod being very stable and a  high payload for a low budget is not possible. Of course you increase the budget to get a stable tripod because of higher materials like carbon are used.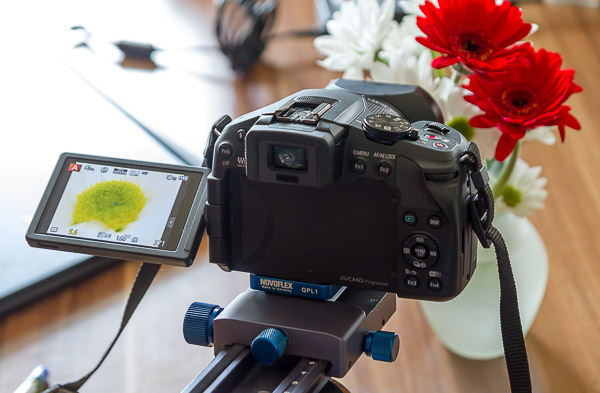 Before defining your requierements for your first or an additional tripod you have to decide about how to mount your camera to the tripod using the different plates or a [post id=597]L bracket[/post] On the picture you see my Lumix G6 with a Novoflex QPL-1 plate. You have to deal with manufacturer system but my advice is to use a Arca Swiss compatible system.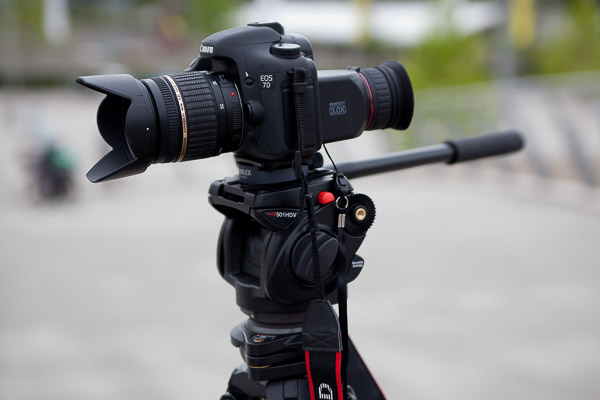 Searching for a tripod you have to consider that tripods are sold without a tripod head, you have to consider this when planing a budget. Another thing to watch out are the manufacturers details on payload, they are overdrawn by something between 30-50%. But this depends to a certain degree on your photography. Thinking of macro photography there is no acceptance when the tripod head doesent' hold your camera/lens combination in place.
Concidering the total height of the tripod you must add the height of the tripod head and the height of your camera up to the viewfinder (or display). I'm 1,80m tall so i can use i tripod with a maximum height of only 1,50 to 1,60m in a comfortable position.
Center columns are a tricky and complicated topic, because i normally advice not to use them, because the whole tripod is more sensitive to vibrations. Therefor you can buy for the Manfrotto 055XPROB a kit to remove the center column.

In my opinion the Manfrotto 055XPROB (the new series is called  055PRO3 ), still is a pretty good tripod for all kinds of purposes and should be the first tripod. It has a very fair price and is pretty stable (if you don't use the center column). But being universal has the disadvantage of not being compact, the closed size of the tripod is 65cm, and not being leight weight (2.7 kg without a tripod head). But the tripod is stable enough to hold a Canon 5D MK II with a Canon 100-400/4.5-5.6 lens mounted. The is a carbon variant which is 500gr  less in weight but of course has a higher  price tag ;-). You decide according to your budget. I had the Manfrotto 055XPROB as my first tripod, switched to a Berlebach 8003 and came back to the Manfrotto after a while mainly because of handling.
But most of the times one tripod only will not fit. Especially in the combination with the Canon 100-400/4.5-5.6 and a Canon 7D i use a Manfrotto monpod with a Benro DJ-90 head pretty often. This combination makes it a lot easier to wiat for the right moment in animal parks or other situations, since this combination is quite heavy the longer you walk arround with it. Another setup is in combination with the Nodal Ninja R1 head and the Tokina 10-17 fisheye lens to take 360×180° panoramas with just 4 images.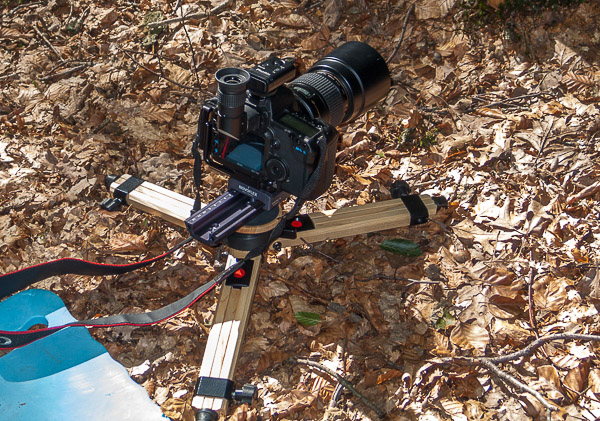 A sort of my favorite tripod is the  Berlebach Mini. Its manufactured from wood and therefore reduces vibrations. The closed size of this tripod is 29cm only and with 0.9 kg its very leightweight. I use it very often for close-up and macro photography with close to ground objects. In combination with a Novoflex Macro rail it is almost the one and only tripod for this purpose.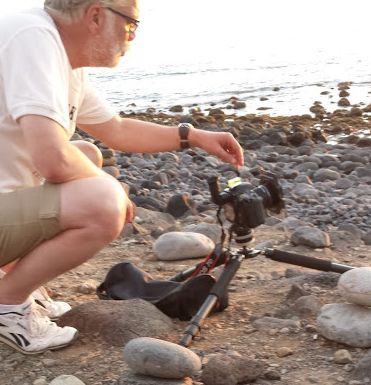 As a last category there are the so called travel tripods, very compact sized tripods with a very little weight. I use the  Feisol 3442 with the Arca Swiss Kopf p0. The tripod weighs 1.1 kg only without a tripod head and the closed size is 48cm only. It is a carbon tripod and pretty stable, especially if you don't use the last segment of the columns. It can be used pretty close to the ground as you can see on the image, and knowing the limitations of the tripod you even can risk a timelapse (the system can reduce the vibrations between the exposures) or use it in combination with a ND (Grad) filter for long time exposures. On my last vacation i only took this tripod (and of course because of the limitations for airplane transportations).
Regardless of the technical parameters you should use a tripod more often just to engage with your subject not in a hurry 😉 you images will gain .
And another thing a tripod with a very good qualitiy is not cheap, but with a little bit of care it will last a couple camera generations so a higher price for your tripod is relative.
These are my experiences with the topic tripod. What about you? Do you own a good/steady tripod or do have more than one tripod? I'm looking forward to your comments and i'm happy about your questions.
ciao tuxoche