Last week review 02-2022
|
Weekly review 02-2022 what a number 🙂 but the weather was again very nice and almost a little too warm, although it is now getting colder 😉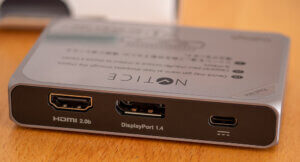 This week was once again the MacBook Air topic, because yes this laptop has only 2 USB-C ports. If you want to charge the device then, an external monitor and an external hard drive operated it is already tight. Therefore, I have described in the article useful accessories that I have been using for a while with the MacBook Air.
card reader for SD cards. With it, I can connect an external hard drive from ICY Box and the Dell U2711 and charge the MacBook at the same time. With
this I can edit photos or videos that are on the external drive ,with Lightroom and Da Vinci Resolve as the speed is more than adequate. First and foremost, of course, is the external USB-C hub from CallDigit, which has USB-C, a USB-A port, a display port and a card reader for SD cards.
The ICY Box enclosure for an M2 SSD is slower than a Thunderbolt enclosure that I also had, but I can run that under Windows.
Then it was patchday again for Microsoft and Adobe. Security updates were published for partly very critical gaps in the operating systems. However, it has been noticed that the updates cause partly massive problems on servers. This is of course an absurdity, but it can happen. One can only hope for those affected that Microsoft will quickly provide a remedy.
But Adobe has also published various updates, especially for the Reader. Some of the critical gaps affected both Windows and MaxcOS.
All in all, another very eventful week. I hope you enjoy the articles and look forward to your questions and comments.
ciao tuxoche