ICY-Box 4 Bay enclosure for backups
|
I run a server with Openmediavault on which my photos and videos are stored. But of course these have to be backed up regularly.
Introduction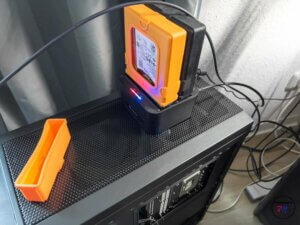 Nearly 3 TB of photos and 4 TB of videos are stored on my Openmediavault server. Until now I used the plugin USBBackup from Openmediavault to backup these data to external USB drives, because a raid is not a backup.
For this I used a drive station, where 2 harddisks can be plugged in at the same time. Since the disks can still be accessed individually, the backup via USB backup was no problem.
Unfortunately this station didn't work properly anymore, probably a loose contact, so I had to find another solution.
ICY Box Case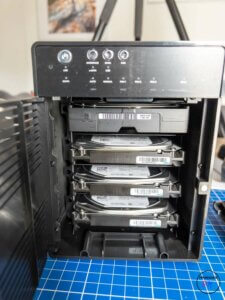 The choice fell on the ICY Box case, which can hold a total of 4 drives. There you can easily slide in your hard drives and the whole case is connected USB 3 to the PC.
There is another variant that can also combine the drives by RAID, but I deliberately did not want such a solution.
Here with the 4 drives I can backup 2 times my photos, on a larger disk the videos and on another disk the images from the Windows installations that were backed up via Clonezilla. On the same drive the backups of the LXC containers of my Proxmox server are saved.
The ICY Box also offers the possibility to connect to a PC via ESata, but USB is the more convenient way at practically the same speed.
In front of the on/off switch are the access LEDs for the 4 hard drives and an option to speed up the fan. However, this might only come into question when the case is in continuous use.
Trouble-free connection
The connection via USB is absolutely no problem under Windows as well as Linux. Also under Linux, for example, a total of 4 drives appear, which can then also be mounted individually.

Thus, the ICY Box can be used in Openmediavault and the plugin USBBackup without any problems. Simultaneous backup to multiple drives is also no problem.
Conclusion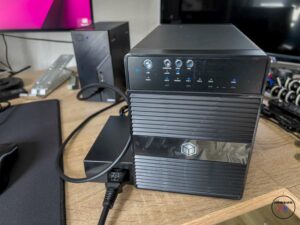 The ICY Box with 4 slots for hard disks is perfectly suited for backup tasks. The speed of USB 3.0 is also more than sufficient as long as you don't equip the box with SSD.
Nevertheless, you can easily replace a hard disk in the slots, if you want to backup to several hard disks.
ciao tuxoche