Post update on 22.Feb.2015
Smartphone or  [post id=60]Tablet[/post] users are almost used to it, depending on your habbtis the battery will last as long as you might wish.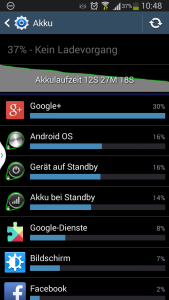 Looking at the power consumption this will part over the different services  (in the screenshot the consumption of the Google+ service compared to the display is conspicuous).
Using the smartphone or your tablet on a regurlar base the battery is emptied faster then you like. Beginning in the morning checking the first emails or WhatsApp notifications.
I'm pretty active on  Google+ and i use the bus transport to work to check the most important posts. A couple of phone calls or actvitvating BlueTooth because of wearing the Samsung Galaxy Gear battery power will last not even 24h.
A little bit of help is promised via a Power Bank, am external battaery pack, which are not expensive any more.
Like mentioned in the video a msartphone like the Sasumg SIII can be recharged about 2,5 times (starting from a 15% battery charge) and a Nexus 2013 1,5 times. The battery pack is pretty compact in size in helps your smartphone to stay alive a little bit longer. And you are able to go down to 15-20% battery charge and start then to recharge your phone. Til now i had to start recharging at 30-40% because charging takes a while and after work i wanted to check my posts again.
Because of different plugs almost all kinds of gadgets should be rechargable, including an IPad. What i didn't try til now is to recharge two device at the same time, but this surely will come 😉
What do you think about those helpers or do you any experiences? Just drop me your comments or questions, both are welcome.
ciao tuxoche