Many apps consume much power
|
The title is sort of truism, but the more apps you use on your smartphone your battery will give up pretty early.

With my Samsung S III smartphone i reached a point where the battery lasts only til noon (more or less). The main  energy consumption  is done by the display, of course, but checking mail accounts regularly consume quite a bit of energy.
I'm pretty active on Google+ and read a lot of RSS feeds. Adding a little bit of  Facebook,  Twitter or Flickr  , a short run-time of the battery is quite obvious.
On my way to work i read all my Google+ notifications (at least i try and sometimes i won't get through) and for the way back in the afternoon i have to recharge the battery.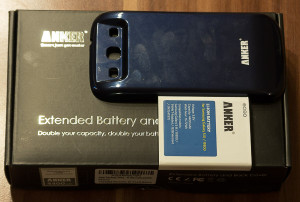 To solve this problem a couple of batteries form different manufactures with higher capacities are offered on the web. I decided to get a battery from  Anker with a capacity of 4000 mAh aufweist. Of course such a battery is bigger in dimensions so most of these offers are a combination of the battery and a new rear cover. If you're using NFC watch out, because there are some offers without the NFC chip built-in the battery.

The smartphone doubles its height with this battery, but it still fits good in my hand. And the additional weight isn't a problem either at least for me. With this battery lasts all the day long til the evening and then has a remaining capacity of 30-40%.
What do you think about such a battery replacement for your smartphone or you happy with the run-time of the original battery? Or do you take 2 batteries or 2 smartphone with you? I'm happy to hear from you in the comments.
ciao tuxoche