Reading your GPS Logger with a smartphone
|
Short time ago i introduced to you my new GPS logger a Holux M-241 GPS , which is to substitude my old logger an  iBlue 747A.
The  [post id=890]Holux M-241 Logger[/post] is a well-priced logger, which has a display and most important is powered by a standard AA sized battery and not a rechargable battery.
Meanwhile a took the logger on a couple on tours and so far the logger works without any problems and is fairly precise. The gps data are downloaded from the logger on a PC or notebook with the free software from  bt747.org, which is able to convert the track file either into the  .kml or .gpx format.
If you're the default settings concerning the recording intervall you're able to record roughly 180 hrs. for the 130.000 data sets to be stored into the loggers memory, but you should backup the gps logger as often as possible.
But now you won't carry a notebook with you every time, but if you own a Adnroid [post id=1068]smartphone[/post] or a [post id=1146]tablet[/post] there is an app available solving this little problem. AndroidMTK will read the gps data from a Holux or iBlue 747 logger  via Bluetooth.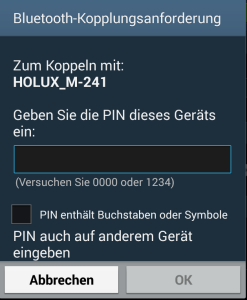 Bluetooth is activated per default on the Holux device, but on the iBlue 747 you have to activate it manually. All you have to do is to setup a connection. The smartphone will scan the environment and if the Holux device shows up you're asked for a pairing code (which is usually 0000, at least this worked for me).
After the connection setup the app is ready to use, and you can start your first download. The app is simple and doesn't supply further functions, except resetting the logger or delete the loggers memory. The download is pretty fast and it occured to me faster than a download via a USB connection.
In order to backup your data you should change the default folder in the apps preference settings. In this folder the original track file and a converted .gpx is saved. You can choose a folder located on a memory card or you choose a folder within the dropbox folders, as i did. As soon if you can use an internet connection the files are uploaded to dropbox and can be downloaded from every device connected to dropbox.
The app is kept simple, but does what you expect and is free  of charge and you should install it on your smartphone. The only thing i could criticise is that the app doesn't change from landscape to protrait display, but this is acceptable.
What do think about this app, would you use it to save your gps data either to a memorty card or to a dropbox folder. Just tell me and leave your comments.
ciao tuxoche