The Holux M-241 GPS logger
|
As already posted on my [post id=885]last week review[/post] that i ordered a Holux M-241 as a substitute for my [post id=838]i Blue 747[/post], and now it was time to try it out.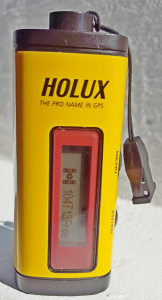 The  Holux M-241 can be ordere for arround 70,– € and find itsself in the medium price GPS loggers. Included in the package is the usual USB cable and a car adapter. Even a battery is included so you can start right away. Not included is the software, but this is usual and makes a lot of sense. Instaed of producing a lot of medias with probably older software it is easier to download the software form the manufactures site. Talking about the battery, one of main advantages for this gear is the standard AA-sized battery, which is available almost everywhere and you can use AA-sized  eneloop rechargeables too.
Compared to my old i Blue 747 the holux M-241 offers a display, which allows a complete setup of the gear. The most important settings should be language and the logging interval to record GPS data.
I tried out the logger, but not on a foto tour but on my way to work 😉
I think you can recognize that shortly after turning the logger on the track is not recorded precisly, but after a couple of seconds this improves and you might recognize my turn to the bus stop.
Judging on a map the tracking is very precise, at least procise enough to add GPS metadata to your images.
As a default i set the interval to 5 seconds. Since the Holux M-241 is able to store a 130.000 datasets this will last 180 hrs. Assuming a real recording time of 12 hours a day this will enable you to record a complete 14-day vacation. but you won't do this ;-)because we read out the logger every and save the track data to your notebook (and even if there is no notebook available there are other solutions). Looking at this facts i don't think storage is tight.
Talking about reading out the logger i didn't bother arround installing the original software, i'll stick to the proven software from  bt747.org ,which i'm using over the last 6 years, on vacations with a notebook, without any problems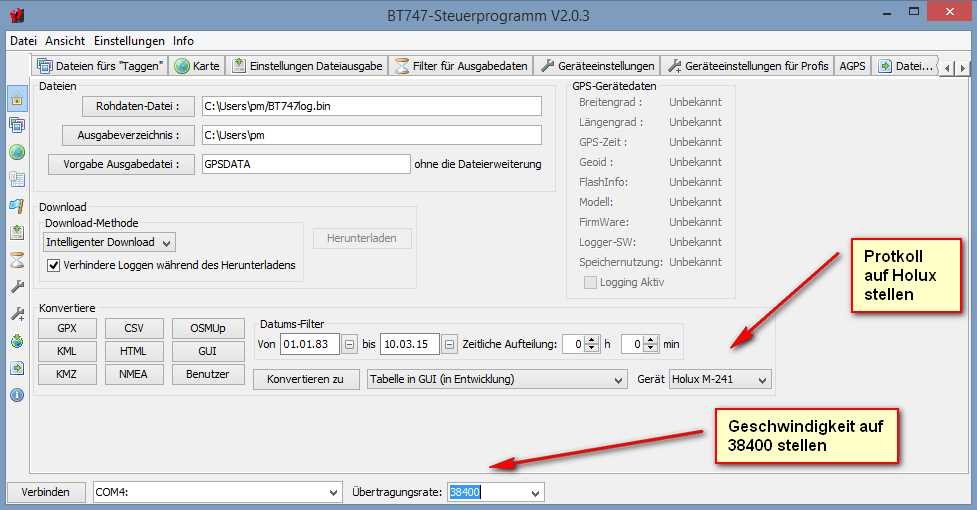 You'll just have to change the protocoll to Holux and the speed of the interface to 38.400, that's all there is to it and with these settings the software works with the Holux M-241. After reading out the data the software can convert it to .kml or .gpx files. such a file can be used with Geosetter, which i use to set the GPS-data and after that i'll do the Lightroom [post id=354]import[/post].
Too me the holux M-241 is right follower for the i Blue 747, small and fitting in every (camera)bag und the run time with 12 hrs. doesn't bother me because of the standard AA batteries 😉
What are your experiences with different gears? Just tell me in the comments and  i look forward to your questions.
ciao tuxoche