Neewer NL 660 vs. Godox SL 60W
|
If you read ths blog regularly or subscrobed my Youtube channel you know that i used Neewer NL LED panels so far for my Youtube videos.
Introduction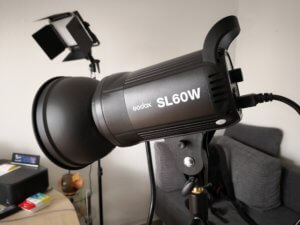 The  Neewer NL 660 are really good LED panels and fairly priced but they have an essential disadvantage. They are so called Bi-color LED panels where half of the LED bulbs will emit daylight and the other half are laid-out for tungsten light with 3.200 ° K. This did bring me to the limits in color correction in Premiere Pro sometimes, because such a mix between daylight and tungsten light is sometimes not easy to correct in Premiere Pro.
Therefore i had the need for even more light and mainly in one color temperature. After a little bit of research i decided to get myself a Godox SL60W where the W stands for white light or daylight configuration. This LED light is powered by AC power, even though Godox offers another model driven by a battery for use on location.
Configuration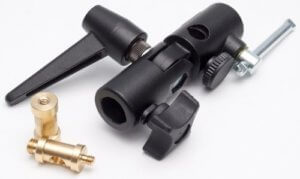 The first  Godox SL 60W delivered did not do anything but the return worked without any problems. Besides the LED light you get a standard reflector, power cable and a remote control. This is not much but enough to work with. You don't need a n additional umbrella holder like the Manfrotto MA026 because the light fits on lamp tripod. What i really like is that the tilting mechanism snaps in so it should be impossible that the light will bounce downward.
Talking about a lmap tripod you should get one with a payload of arround 4 KG even the Godox SL60W isn't that heavy but it is for stability.
I did a little video on handling an configuration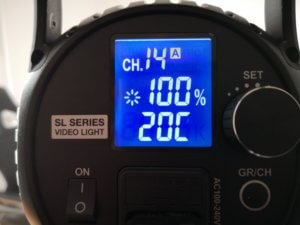 The light offers a pretty big display for channel, temperature and output and can be controlled with the remote control. The remote control seems to be a universal one because there you find a setting for the color temperature while the Godox SL60W operates with a fixed color temperature. Setting the color temperature to 5.600 ° K i did not have problems to alter the output in the complete range from 10% up to 100%.
The Godox SL 60W offers a fan for cooling the light but you hear this fan only when you're very close to the unit. Maybe i do a test if the fan will disturb audio recording.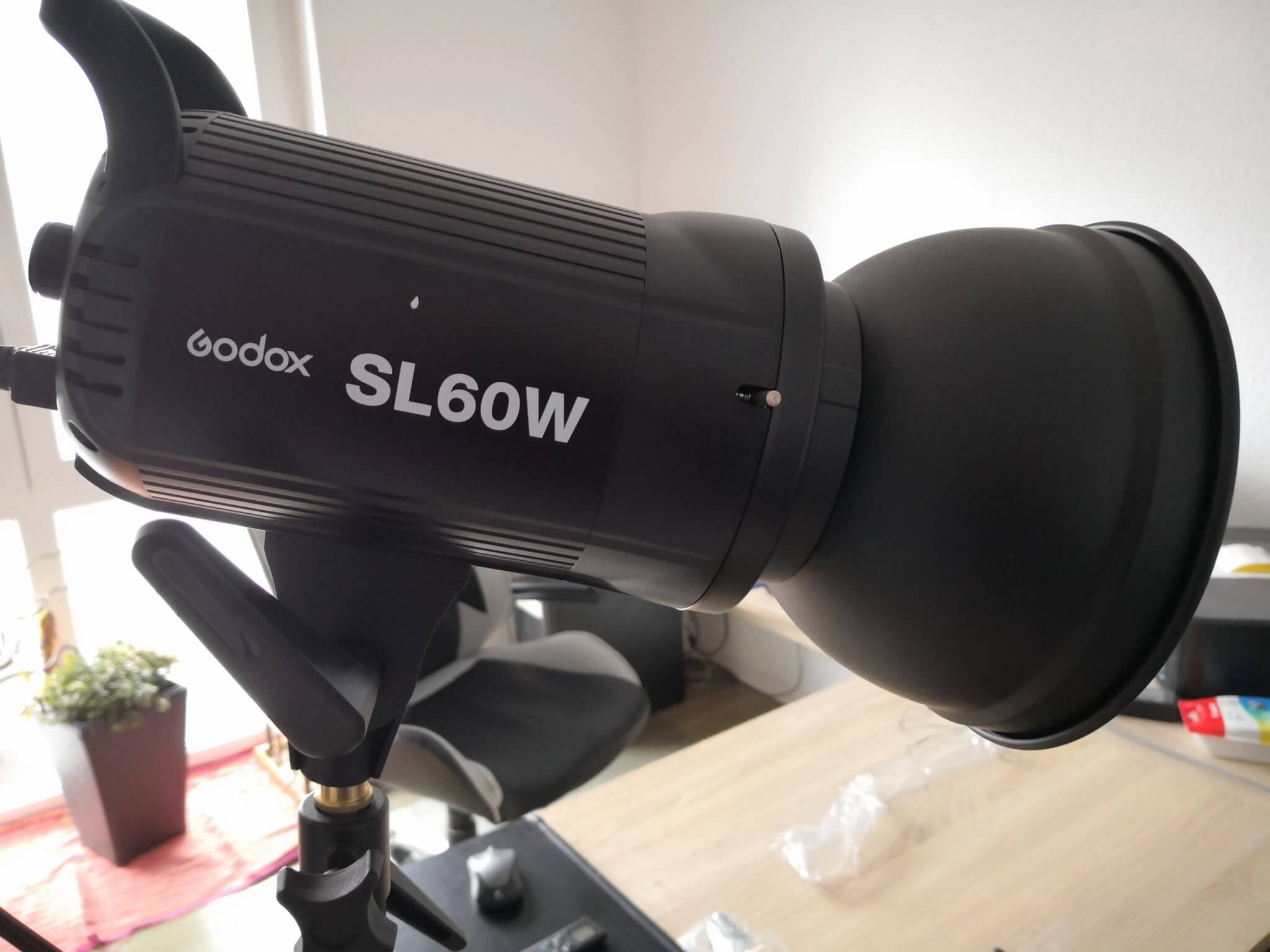 The only problem i could state is that the remote control and the light itsself don't sny. So if you change the setting on the light directly and after this using the remote control the ouput will jump to the last value you did with the remote control.
The comparism
I did a comparism between the Neewer NL 660 and the  Godox SL 60W by capturing a scene with my Lumix G81 which was lighten in a distance of 1m away from the subject. Here is an example image.
The Neewer LEd panel was used with a white umbrella and i needed to set ISO to 1.600 to keep 1/50 sec. as a exposure time. In the same condition i only set ISO to 200 with the Godox SL 60W. This is quite a difference.
The softbox
At the same time i ordered the Neewer 90 cm softbox for the Godox SL60W. This softbox is pretty big  😉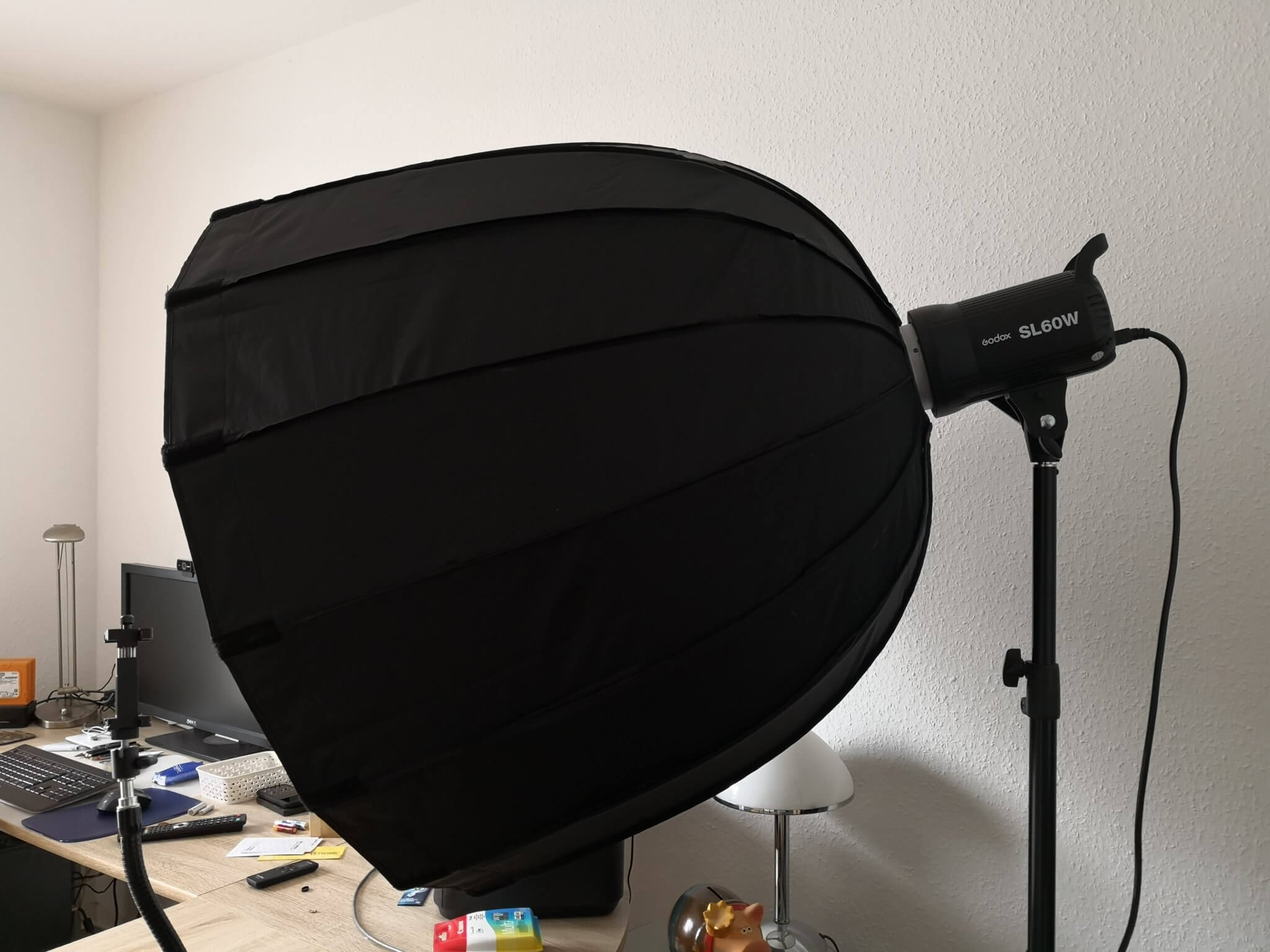 But it gives a beautiful soft light even thuogh assembling the softbox wasn't easy, mainly because i never did this before and there wasn't a peace of instruction included. Because of the universal Bowens mount this softbox fits on the Godox sl 60W but this softbox isn't portable because i won't disassemle this beast. As mentioned before you should use a steady lamp tripod in this combination.
Conclusion
I'm very happy with this piece of equipment and even with the softbox i'm considering to get a second unit as a fill-in light. But the light quantity is sufficinet for my usage and again you'll get this for a fair price.
What do think about the  Godox SL60W or do you use other video lights? Let me know and place a comment.
ciao tuxoche