Lightroom CC 2015.10.1 and Lightroom Mobile 2.3.4 released
|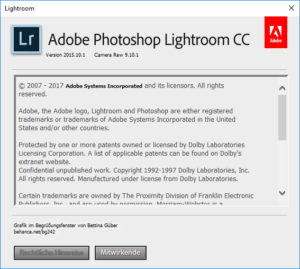 I just downloaded  Lightroom CC 2015.10.1 for my pc and  Lightroom Mobile 2.3.4 for my smartphone. In addition because of the support of newer cameras Adobe Camera RAW was updated to version 9.10.1.
In the list of the newer cameras there mainly newer smartphones like Samsung Galaxy S8 models and the  Google Pixel XL. The complete list of supported cameras with this version is found here.
There is no official blog post by< Adobe so far so i assume there are no additional changes to this versions. The version number both of Lightroom CC and Camera RAW indicate a bug fix and a support of newer cameras only. Only the Google pay list some corrections in the HDR function and fixes for stability problems on some smartphones.
So maybe there is hope for Adobe listening to their customers and fix some of the problems i posted already in my feature request for an upcoming Lightroom CC 2016 version. They promised some time ago to do better communication with the users of Lightroom CC 🙂
[Update]
Meanwhile Adobe posted a entry on their blog.
ciao tuxoche