Last week review 37/2015
|
Last week review 37/2015 and its getting late summer this weekend 😉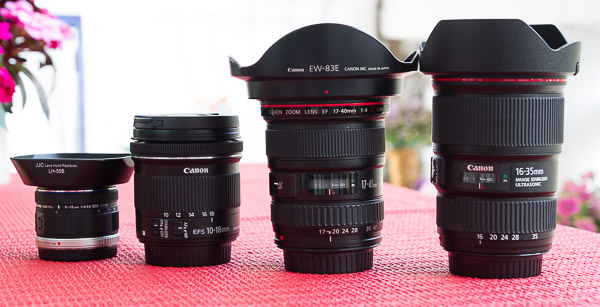 In the [post id=1032]article[/post] for this week we compared lenses again, this time we compared the Canon lenses EF-S 10-18mm/4.5-5.6, the EF 17-40/4.0 L, the EF 16-35/4.0 L IS and the  Olympus 9-18mm/4.0-5.6. I already [post id=1015]compared[/post] the 17-40/4.0 L against 16-35/4.0 L IS , and in this comparism the  16-35/4.0 L IS presented itsself as a marvelous Widaeangle Zoom, sharp even at open aparture and the corners are very good too.
Anyway i was interested in how the other lenses would compare and especially comparing the Olympus 9-18mm, which sells used for almsot the same price as the Canon 17-40/4.0 L.
After the comparism we'll get the following order:
Canon 16-35mm/4.0 L IS
Olympus 9-18mm/4.0-5.6
Canon 17-40/4.0 L
Canon EF-S 10-18mm/4.5-5-6
The Canon 17-40/4.0 L is a pretty good lens if your're getting in full frame photography, in spite of rank order 3. Meabwhile i sold it, because the 16-35/4.0 L IS is the far better lens. Even if rank order 4 only i'll keep the EF-S 10-18mm/4.5-5.6 for APS-C cameras like my Canon 7D, because of its good price/performance relation.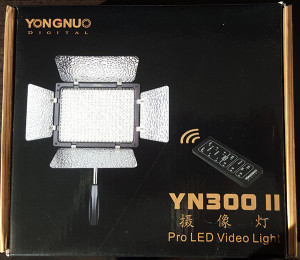 For my video tutorials and screencasts i got myself 2 videolights Yongnuo YN 300 II LED , which i'm trying out at the moment. The videolights have a fair price of arround 60,– € each and promise a good performance.
These videolights should allow video recording even in the darker time of the year, particular in combination with  [post id=24]20mm/1.7 II[/post] and my  [post id=976]Lumix G6[/post], which does a better job on video than the Canon cameras.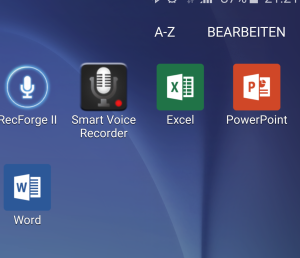 Yesterday a upgrade to Android version 5.1.1 was distributed for my [post id=1068]Samsung S6[/post].
Besides new icons you'll find icons for Microsofts  Word,Excel and Powerpoint apss in the menu, which can be used according to Microsoft free of charge on devices up to display sizes of 10.1 inches.
Touching an icon you get forwarded to an update address. I don't know if i should make use of this apps, If i'm gonna test it i sure do it on my tablet, which makes more sense because of its display size. But now the Samsung Tablet S has a display of 10.5 inches so that might prohibit the free of charge use of these apps and you'll get forced to the subscription modell. But there is OpenOffice for Android avalable, and i use office produv´cts very rarely, so i might try this option first.
An eventful week and i  hope that some of the articles on this blog gained your interests and i look ahead to your comments/suggestions. And don't forget, i installed a feed for you via feedburner .
ciao tuxoche