Last week review 02/2015
|
Last week rview 2/2015 shows us that we all arrived and even though it is pretty stormy here i wish you a Happy New Year 2015.
If you're interested in the most popular articles of this blog you might want to take a look at the the article  1 year online .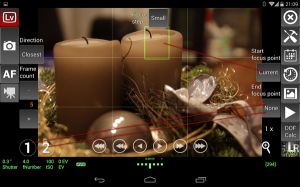 In this weeks article we took a look at  DSLRDashBoard for Windows a tether software not only for Canon cameras, but also for Nikon and some Sony modells.
The software undertakes the right intention, not depending on operating systems placing an application which can be used to take tether shoots with your camera. The appplication is available for Windows, Android and iOS.
Too bad the appclication is not stable enough, as you can see in the screencast video. The error not being able to change f-stop or ISO was repaired in the shortly published version 0.2.4. But a short test on an android tablet with the new version stability has not gained, so you can't use this application for production purposes. But i'll kepp DSLRDashboard in focus.
Since middle of the week i have a new internet provider and i'm connected to the internet with VDSL with 50 MBit down and 10MBit upstream. There were a couple of changes because of a new router and other things, but i will report on this later. The differences to an internet connection with only 6 MBit are pretty big. I'm sure uploading a new video  Youtube should be a lot faster now.
As you probably know i bought  Lumix G6 , a mFT camera. Due to the bad weather i couldn't play arround with it in practise, but i added lenses:
Olympus 9mm f 8 Fisheye
Panasonic 45-150mm/4.0-5.6
Olympus 9-18mm/4.0-5.6
This makes the quipment almost complete , based on KB format they cover a focal length range from 18mm ultra wide angle up to 300mm telephoto. Now it's time to get practical experinece with this equipment.
I hope that some of the articles on this blog gained your interests and i look ahead to your comments/suggestions. And don't forget, i installed a feed for you via feedburner .
ciao tuxoche