qDSLRDashBoard for Android, Windows and Linux
|
Post update on 18.Sep.2014
A comment on my blog to the article about [post id=416]DSLRDashboard[/post] placed my attention to a meanwhile released crossplattform alternative qDSLRDashboard .
An application available for a couple of operating systems like Windows, Linux and Android sounds very interesting, because it (almost) retains same functionality and usability.
qDSLRDashboard is still very beta, so there is a lot of development to do. But even with the new version 0.2.1 there is no change, at least concerning my 5D MK II and the Canon 7D.
I tried out the Windows version and the version for Android, the later on a Nexus 7 2013 tablet. Installing on Windows you'll have to install the WinUSB drivers. For Adnroid smartphone and tablets you need a USB-OTG cable.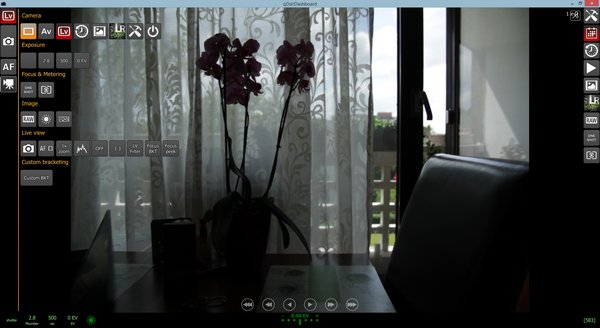 Here you see the screenshot from the Windows version, but it looks just the same on a tablet. The overlay tool bar can be faded out. From this tool bar you control all settings like ISO,aparture,metering mode and so on for the Canon 7D.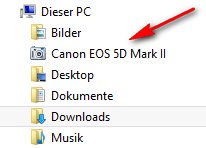 Even though the Canon 5D MK II is recognized, like you can see on the screenshot, qDSLRDashBOard is not able to connect to the camera not to mention to establish a liveview.
Restarting Windows 8.1 didn't help.
But even with the Canon 7D i had the problem that in liveview mode there was no AF-point, which can freely positioned on the screen, just like described in the above mentioned article about DSLDashBoard. This is big problem of qDSLRDashBoard, which makes it impossible to use the application for macro- or stacking picture taking.
This problem doesn' seem to be a general problem on Canon cameras, it seem to depend on the modell. Axel reports on his blog, that DSLRDashBoard is wordking with a Canon 70D. On the last foto on his article you can recognize a AF field, just like expected.
But there another thing missing, a clear statement by the author of the software considering thelicense, even though right now the application is availble free of charge.
At the moment both DSLRDashboard and the cross plattform qDSLRDashboard is no alternative for me, even though the cross plattform availibility is unique. On the other hand there is no risk for you to just give it a try, maybe your camera modell is supported.
Maybe those people with a working combination could leave a comment, i looking forard to it. Anyway i follow the further development.
ciao tuxoche