Post update on 18.May.2015
DSLRDashBoard got quite a bit of attention in the past, especially in conjunction with the TP-Link 3040 Router.
Everytime i tested DSLRDashBoard, that the version for [post id=416]Android[/post] and the version for [post id=465]Windows[/post] didn't work, mainly because there was no AF-Point, which could be positioned freely.
A couple of days ago i tried out the up-to-date version 0.2.3 and surprisingly i had a focus point on the Liveview screen, which could be positioned just how i like.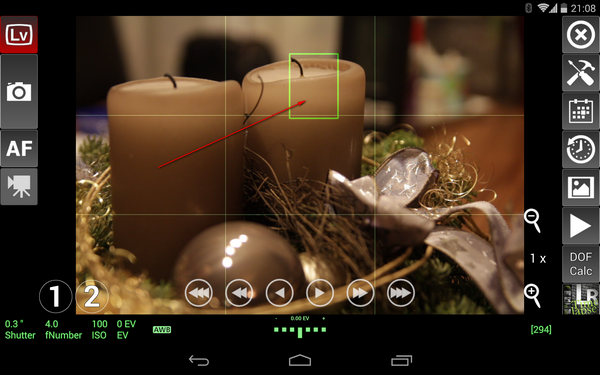 So the main reason while not using DSLRDashBoard was ommitted. The AF point can be postioned all over the LiveView display, even though you'll need a little bit of patience. Pushing the AF button will result in focusing the object, but you need edges or something like that, otherwise the AF will pump back and force. This is not a fault of the App but of the AF-system in Liveview mode.
With the video button you can start a video capture.
Next we try a focus bracket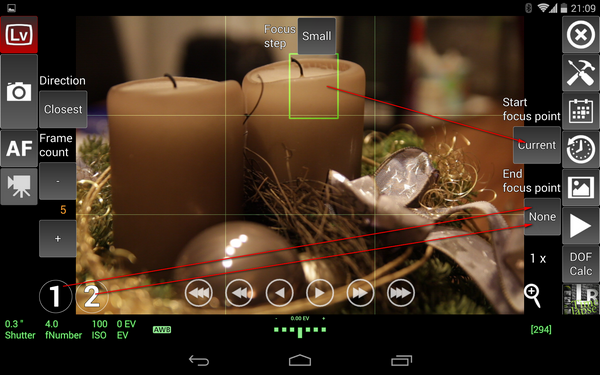 With the num buttons you can store a focuspoint which you can use for starting and the end point of a focusbracketing. Now you need a little bit of experience for using the right steps for the focussing and the number of pictures to take. It would have been very interesting if the app focus over the endpoint, if you choose more pictures than needed.
But at this point the app is quite instable and quits right in the middle of a series. This is a little bit disappointing, but the app is in development and i surely will take a look on the Windows version. I think the developer is on the right way.
Update
qDSLRDashboard just released version 0.2.9 and i installed it on my Nexus 7 2013 tablet. I hoped that a new version would improve stability, but after entering Liveview on a Canon 7D it just happens that the connection is lost. I couldn't even try out the things i did for the original article. It isn't a fault on the cable or, because with the same cable and the same device i'm able to play arround all functions in DSLRController. So maybe qDSLRDashboard is nothing for Canon or at least my modelss (7D and 5D MK II). We'll have to waiut and see.
If the app is developed further it surely finds its position, but what do you think about DSLRDashBoard? Just leave me a comment and or a question.
cia tuxoche