Moving images with Lightroom
|
Even with the capacities of modern hard drives the might be the need or the wish to move images managed by Lightroom to a different drive.
Introduction

Lightroom saves the place of physical storage of your images when importing the images. This could be a problem if your harddrive runs out of space or you have to move older images to a regular (external) hardrive because of the limited space on a SSD drive. I'll keep the images of the last 2 years on a SSD and all images older than 2 years on a local hardrive with sufficient capacity
Solution
Either you move the images with the help of the operating system or you do the move operation within Lightroom. Sice there were a couple of questions on this topic i did a little video: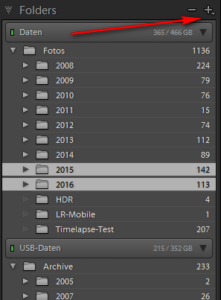 As shown in the video after copying or moveing complete folders with operating systems you have to tell Lightroom where the missing images or folders are to be found.
Doing the move operations within Lightroom you have to do this step of course, because Lightroom knows the new locations of  moved folders. Since Lightroom even moves files not managed by the program both options are equal. On eralier versions i had problems with the move operation in Lightroom, because additional GPS track files werent't moved together with the images.
Meanwhile i'll choose moveing the folders with Lightroom.
It doesn't matter if you archive your images or just move older images to another drive, just remember to inlcude the new location in backup.
Smart-Previews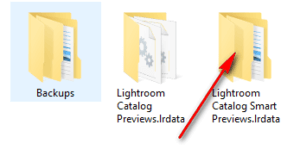 Moveing your images to another (external) drive, there might be a necessity to access the images, even if the data storage is not connected. For this setting Adobe implemented the smart-previews, which not only allow to view the images but image processing is also possible.
If you activate the option to generate smart-previews Lightroom generates very small DNG files form raw files. These small DNG files are stored in a seperate folder where your catalog and the regular previews are stored. With a Canon 5D MK II Lightroom generates a DNG files with 700kb-1MB in size from a 25MB raw file.
Those smart-preview files serve as a proxy to the original file while processing the image, if the original file is temporary not available and since  Lightroom 2015.7 CC this is ture, even if the original file is available.
Conclusion
Lightroom offers a very flixible managment for your images, even beyond local drives and with the smart-previews there is an option to view and develop your image, even if the original raw file is not available.
ciao tuxoche