Improvements in Pano2VR 5.0
|
Not long ago  Garden Gnome Software announced version 5.0 of their Pano2VR tool, and as promised today we take a look on the main improvments.
Introduction
After almost 2 years Garden Gnome Software published a new major release of their panorama tools, which i tried out now and compare it to version 4.5, the last release i did a blog post on in may 2014.
What didn't change is that Pano2VR is available in 2 version, a regular one and a pro version. The pro version makes it a lot easier to handle virtual tours, and probably addresses pros which (have to) do a lot of those tours like for tourismic atractions. The pro version costs 299,– € and the regular version can be licensed for 99,– €. But before buying one of the two versions Garden Gnome offers a fully functional trial version to checkout handling and workflow.
Pano2VR is available for Windows, Mac OS and Linux.
The surface
The surface of Pano2Vr changed radically and is supposed to hamonize more with Windows 10. Maybe i'll get used to it but it's not clearly arranged. All your settings are positioned on the right and the left hand side of the centered panorama.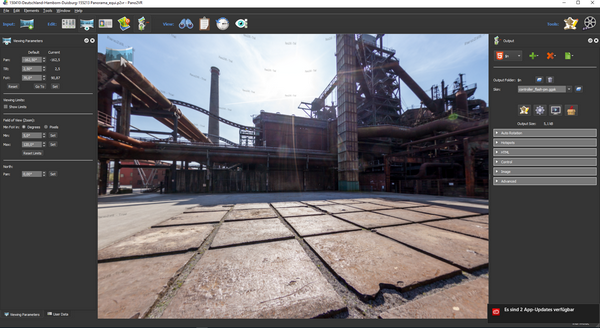 After getting used to it everything will be there at a glance but you need more room on your desktop. My advice is a monitor displaying at least 1920x1080px.
Functionality
Besides the new designed surface Garden Gnome didn't change much. You can use your old project files if you like and a personalized skin, edited with version 4 can be used too. But there are two main new features, one are the animations and you're now able to render a video from this animation, which can be included in a (vacation) video. To render videos from an animation you need the open source tool ffmpeg.
But let's take a look on a small video:
The animations come in very handy and the opportunity to render a video from this animation is very nice. I posted on rendering a video from a panorama with After Effects (german) a long time ago, but the animations are easier to handle. But the time needed to render a 10sec. video for example is horrible. And it would be more convinient to offer most popular video size as a dropdown menue.
Conclusion
Version 5.0 offers a couple of new features and improvements, mainly the animations and video rendering, but i don't really like the new surface. It's just overloaded. But for people earning money with virtual tours and panoramas the new software is a sort of msut have.
I'm hesitant if i should upgrade to the new version. What do you think about the new version? Well done? I'm looking forward to your comments and questions are welcome too.
ciao tuxoche