DSLRDashboard a new App for tether shooting
|
With DSLRDashboard another alternative for the remote control of a camera is available, the app for android systems is free and works on both Canon and Nikon cameras, so worth taking a look.
DSLRDashboard first attracted my attention by a discussion in the DSLR forum (soory german forum 😉 , where , however, the essential question is to control a camera together with a modified TP-Link MR3040 router via Wi-Fi. Setup instructions can be found here
DSLRDashboard another alternative for Tether recordings
Regardless of this particular application, first of all such an app should fulfill the basic functions that are required to steer a camera remotely , either via WiFi or via USB OTG cable.
A first look
Problems
If you install DSLRDashboard from the Google Play Store you get the version of 0:30:30 . At first start the open cv is installed automaticly , as already mentioned in the video .Although this version is very new (now a release date 29/12/2013 is displayed) this version of then open cv manager produces problems activation Live View on the camera , meaning the live view display remains black. This error is reproducible with both of my cameras.
Taking the version 2.9 from the opencv library from the developers website DSLRDashboad works, at least aktivitating the Live View works. First you have ti deinstall the automaticly installed version. After installing the version from the developers website you have to deactivate automatic updates, otherwise the not working version is installed again.
Then a discussion in the LRTimelapse forum alerted me. Selecting an image format JPEG and a resolution, which does not exist on the camera leeds to an error 70 e.g. 7D. This is what happend to me, argh ;-). A possible solution to get rid of the Error 70 is described here. This is perhaps less a fault of the app , but probably the Canon SDK apparently passes invalid commands to the camera.
What I do painfully miss is touch focus in Live View mode , which you can also move arbitrarily . It seems , if you take a look at the video from Gunther this feature is available on Nikon cameras. But with my two Canon's not, and that make the app currently still unsuitable eg for the stacking.
Conclusion
The app is still in its infancy and the developer is so obviously willing to take on suggestions and possibly add more features, but for now the app is real no  alternative to DSLRcontroller at least for Canon cameras.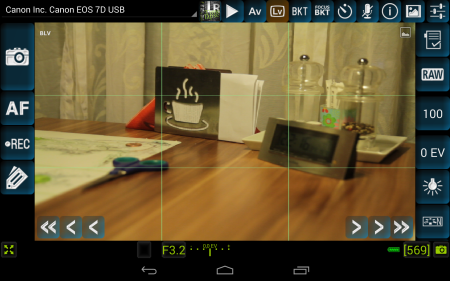 DSLRDashboard newer version 0:30:32 benefits little when adds additional functions have been added in the current trial. This can be , for example, the mode of the camera to M or Av Tv change .
What really sorely lacking is touch focus, to put the focus exactly there in Live View , where he should go. The fact that timelapse shots can not combined with HDR is bearable .
But I will watch DSLRDashboard certainly continue reporting.
Do you use DSLRDashboard and for which photographic tasks. Just leave me your comments / suggestions and questions gladly .
ciao tuxoche