New audio equipment for home
|
Sometimes you need a good pair of headphones to listen to the audio track, and for voice-overs or screen recording with OBS, a good microphone won't hurt either.
Introduction
I record the tutorials and software reviews on the PC with OBS, but now it happens that such a tutorial is also recorded on the MacBook Air. And the processing of the audio tracks in Da Vinci Resolve or Lumafusion needs a good headphone for noise removal and normalization.
As headphones I had so far a Sony Bluetooth MDR ZX770 headphones, which has a good quality. I could use them on the PC, on the MacBook and also on the iPad. Sometimes I used a cheap Panasonic headphone for quick checks.
Only the Sony headphones had a decisive disadvantage for me lately. I now wear hearing aids and here always occurred feedback, which was very annoying.
Headphones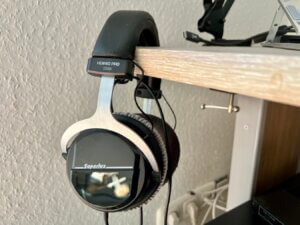 When researching headphones, names like Beyer-Dynamics, Audio Technical and others come up very quickly. I was just very quick to doubt that with my limited hearing I could even hear the subtle difference between a pair of €200 headphones and a less expensive model. In addition, I think that you can have a wired headphones in good quality certainly also for 50, – €.
After some research in YouTube videos and testimonials, the choice finally fell on the Superlux HD 660 Pro.. I then ordered it from Thomann.
With its pads, it sits very well and you also have no problems with longer wearing times. It sounds good and above all neutral and shields ambient noise quite well. In addition to the 3.5mm jack connector, it also comes with a 6mm adapter, but I do not need it. So I am satisfied with the part.
The microphone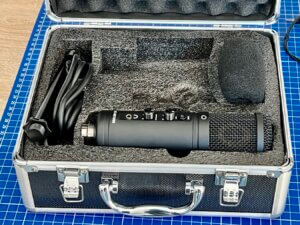 For some of my recording I used to have a USB microphone. After that I recorded with the Rode VideoMicro. This was either connected directly to the PC, but most of the time the recording was done with the Zoom H1n.
And of course, the Rode VideoMic Go II can also be used very well thanks to its USB-C port. But that's more something for on the road or in a hotel, for example.
So I started looking around again for a great USB microphone, and the t.bone microphones still have a pretty good reputation when it comes to price/performance. So I bought the t.bone SC425 from Thomann, which even comes with a case.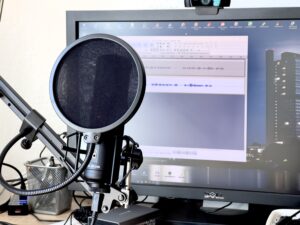 The microphone comes as a set with a table stand, which goes from the height to the emergency. You have to get pretty close to these microphones to get a reasonable quality. However, it would not have hurt if this table stand had turned out a little higher.
I then also bought a microphone arm, which is much more flexible in the placement of the microphone. On the mount, you can also tilt the microphone a little, further reducing the greater sound pressure from pop sounds.
With Audacity or OBS, I achieve a good quality with it and it doesn't need so much post-processing in Da Vinci Resolve afterwards.
Conclusion
I am happy with both devices and they will certainly make my job easier when doing tutorials or voice over recordings. Since the microphone also has a jack for headphones, it's very easy to monitor your own recording.
What do you think about the purchase? Drop me a line in the comments.
ciao tuxoche