Topaz unveils Denoise AI 2.4 at a reduced price
|
I have reported about Topaz Denoise AI several times here on the blog and last week Topaz released version 2.4 and at the same time the software is currently available at a reduced price.
Introduction

The higher the ISO setting and/or the smaller the sensor, the more prone the images are to noise. This is where Topaz Denoise AI can help. The tool is currently available again for just under $60, and the update to the version is of course free for version 2 users.
Of course, you can also denoise with Lightroom, but the results are better with Denoise AI. Denoise is available for Windows and MAC and can be included as a plugin for Lightroom and/or Photoshop CC.
The new version
The new version offers more file formats such as HEIC and fixes problems with DNG files.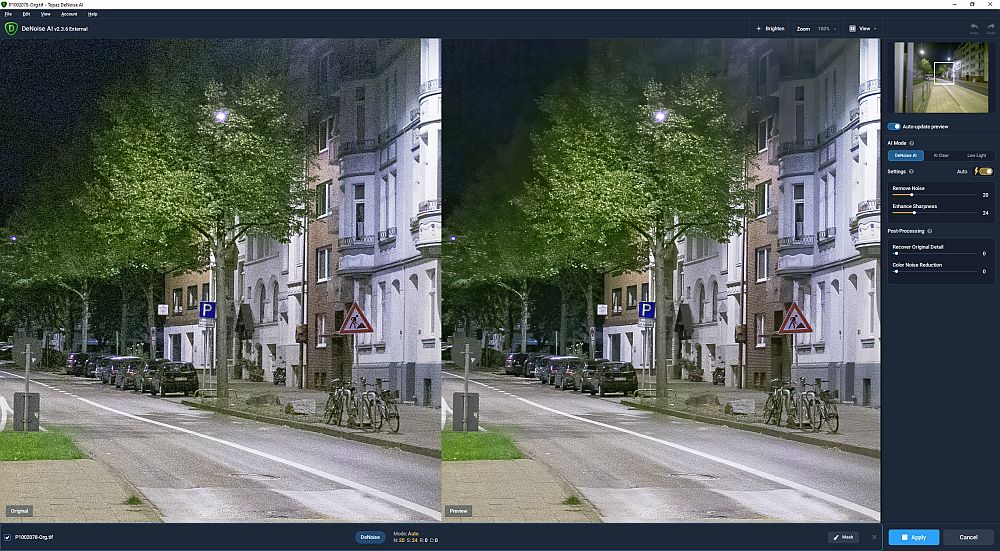 Little has changed in the interface. The tool offers 3 automatic modes with the possibility of manual intervention. Of course, you can directly read in RAW and thus define the denoising as the 1st processing step. In terms of handling, however, Denoise AI is made to be used as a plugin.
The results
Before I updated to the new version, I processed motifs from the last article again with Denoise AI 2.3 and saved them as 16-bit tiff. I then processed the same images with version 2.4. There were no problems with the update, but there must have been problems, because version 2.4.1 was released quite quickly.
Here is a small comparison:
The difference to version 2.3 is marginal, so in terms of denoising there is little improvement. However, when I made the comparison, I had the impression that the rendering of the denoised image is somewhat faster.
conclusion
The version 2.4.1 brings only marginal improvements but is free for registered users. Due to the low entry price Denoise 2.4.1 is definitely worth a look. It also comes with a free trial version.
Still, Denoise doesn't come close to DxO Photolab's de-restrictive results, which are considerably more expensive.
ciao tuxoche