I use a tablet on a regular base, because usually i find a smartphone to small to enter longer comments or text anyway. Now after 2 1/2 years i decided to get a new an up-to-date tablet.
Introduction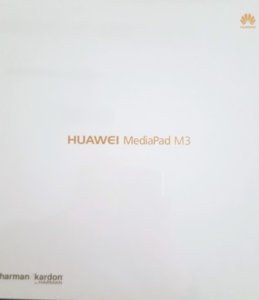 I used the Samsung Tablet S with a 10 inch display for quite some time now, but meanwhile 16 GB of RAM only werent't enough anymore. This doesn't change considering that some apps or least parts of them can be installed on the SD memory card. First of all it is only part of the app and secondly you have to initate the removal every time an update for the app was installed. After a little bit of research i decided to get myself a Huawei Mediapad 8.4 which offers 32 GB of memory and a faster CPU.
Size
I decided to get a tablet with a smaller display size, because 10 inch are pretty big especially holding the tablet with one hand and use it on the sofa. I already had a Nexus 2013 a tablet with an 7 inch display, but this was a little bit too small. So the Huawei with the 8.4 inch should be a good comprimise in size and handling.
In contrast to other tablets the Huawei has a display protection foil with it. What i forgot was the different size if the SIM card, my old Samsung needed a Micro-SIM card while the Huawei needs the smaller Nano-SIM card.
Setup and handling
After the setup of your Google account you're almost done, but of course there a re a lot of apps to install and every cloud service or email accounts have to be setup. For this i personally prefer the password manager KeyPass for Android.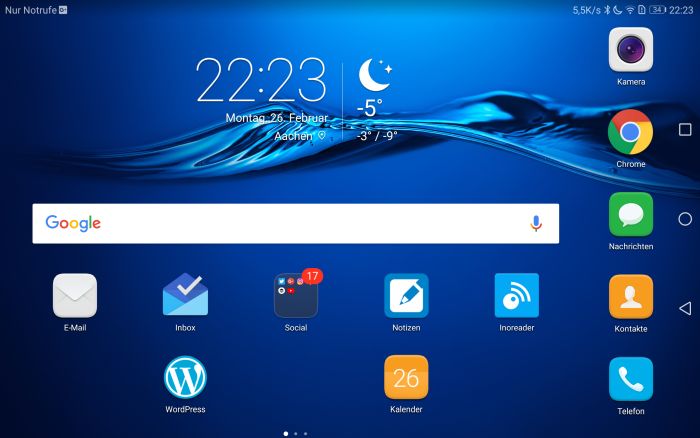 Because of the smaller size of the Huawei tablet i tended to hold the tablet in portrait modus, sort of an oversized smartphone, but the handling is goog too in landscape mode. If you think the width of the tablet is too large to handle the virtual keyboard Huawei made a little trick by splitting the virtual keyboard towards the edges of the display.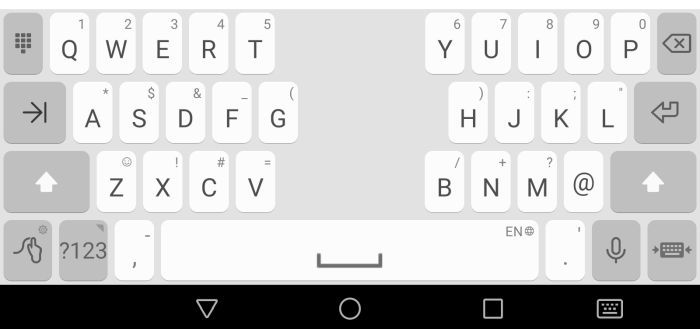 With the Huawei you can define the path to the SD memory card as a default, so caches or images from the camera will be stored on the SD card, a feature that i like very much. Talking about the camera, the quality of the images is not as good as you might expect from a smartphone and video clips can be done with HD resolution only, but this is not the main purpose of a tablet.
Android OS
The LTE Tablet was delivered with Android version 6 and  EMUI 4.1.3. I knew that there is Android 7 available for this tablet, but first of all i did the setup. But even after a couple of days of usage there wasn't any notice about a newer Android version for the tablet. So i decided to plug-in the SIM card from my old smartphone, but even this didn't change anything. Every time i tried to update manually the tablet kept saying no newer version available. After research i found a blog post on Huaweiblog which described the procedure to get the new Android version with the firmware finder app provided by Huawei.
The process takes a couple of steps, but leads to a succesful update to Android 7.
I installed Android 7 and the new EMUI version 5.01 on my tablet and it worked without any problem, but still the question is why the tablet didn't find the newer version by itself either via WLAN or mobile data connection.
USB OTG
Most important too me was the opportinity to connect other devices to the tablet like an external hard drive. This allows the tablet to be used as a data safe while your on vacation or a short trip.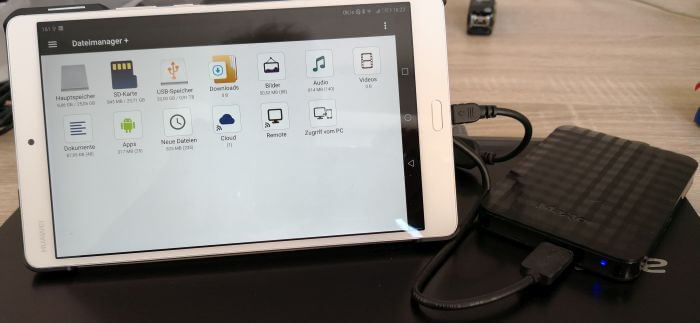 This works very good as you can see in this example with 2,5 " external hard drive. And since is working there should be no problem to connect a camera with DSLRController: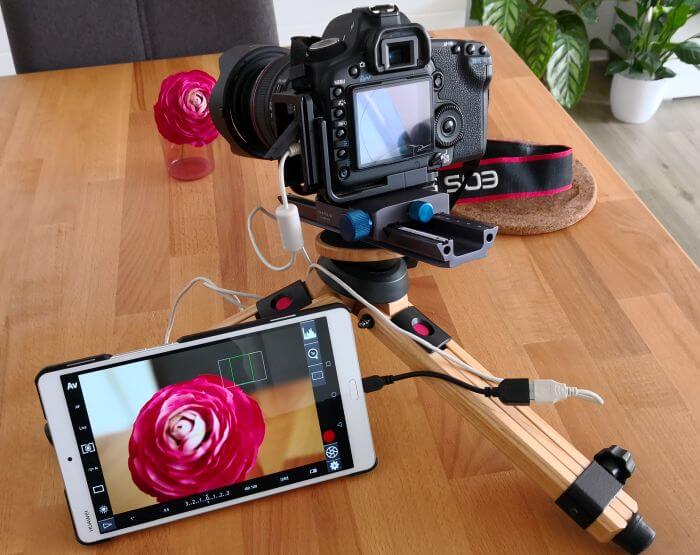 As you can see this works too with a Canon 5D MK II and a simple OTG-USB cable.
Conclusion
I like my new  Huawei Mediapad M3 very much and the LTE version costs only arround 50,– € more than the WiFi only version. It offers the gain in performance with the modern processor and offers more space with 32 GB of RAM. For images,documents and other larger files you can use a SD memory card. The display is very good in brightness and resolution. The only thing i have to get used to is to hold the tablet more like a large smartphone.
In addition the tablet offers the opportunity to connect external storage or other devices via USB-OTG. And yes i did not wait until the new M5, which was released these days, is available on the market.
ciao tuxoche