Problems with Android apps
|
Android is a very convenient operating system and sometimes you're surprised about what's possible with those little devices like a smartphone or a tablet.
But even with Adnroid 5 which most of us should have installed there a re a couple of problems with different apps.
Display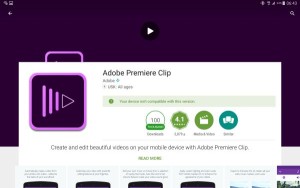 I was pretty surprised last week that the facebook app ordered a new login after an update (repeating your login once in while is not a bad thing in terms of security). But the login window was displayed in portrait format. The version installed before the update respected the display orientation and show the login windows in landscape format on my tablet. But the facebook isn't allone, TSU app changes from landscape to portrait format if you wnt to add an image to your post 🙁
But even  Lightroom Mobile starts with a display in portrait format right away after starting the app and then turns back to landscape when working on a tablet. Very consequent is Adobes Adobe Premiere Clip, whch fails to install on a tablet, even though a tablet is too me the more suitable device vor video editing.
Moving Apps to SD memory card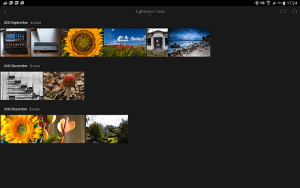 Since Adnroid version 2.1 the operating system is enabled to move complete apps or parts of them to a memory card in order to save memory on the device itsself. Even though ths feature is arround for a while there still are problems.
Some apps including Google own apps like Inbox or the Chrome browser don't provide an option to move the apps to the memory card. But why shouldn't it be possible to move those apps or parts of them to an installed memory card? Maybe starting the app is not as fast as from the memory but there are really no reasons against it.
But if your app allows a movement to the memory card, there is another problem. After the update of the mentioned facebook app i had to start the meovement process in the application manager again.
Access to the SD memory card
With Android 5 aka Lollipop accessing a memory should be a lot easier and more convinient compare to version 4.4. But still there are lot of situations where writing access to the memory card is denied. i use  AZRecorder, an app to record whats happening on the screen to a video, for rendering Screencasts. Also i can choose a folder located on the memory card but writing a video is denied. Same is true for  raw2dng, a small Android raw converter can't save the converted DNG files to the memory card.
Conclusion
From the users poimt of view there is lot to improve, even though Android is a powerful operating system. Of course it depends on the device manufacturer how fast updates are available. And this is point where Samsung doesn't do a good job, the next Galaxy S7 is to be announced, but the Samsung S6 isn't updated to Marshmellow til now.
Maybe you're Android user and add a couple of other problems to the list. I'm looking forward to your comments.
ciao tuxoche