Last week review 3/2015
|
Post update on 14.Aug.2016
Last week review 3/2015 and the weather doesn't feel like winter at all 😉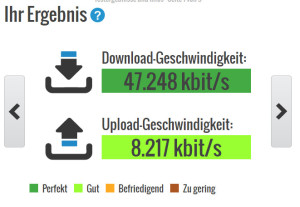 In the article this week i reported on my new  [post id=782]internet connection[/post], from  1 und 1 , providing nominal  50 MBit  down- and 10 MBit upstream.
As you can see in the hardcopy from a typical dsl speedtest on the left i almost reach the nominal values. But we have to consider that the results from those test will differ depending on the time and the weekday the test is run.
Until now i'm pretty happy with this connection, even though there was a little problem with the router delivery.
The VDSL modem/router, a avm Fritzbox 7362 SL,  is all set up. I only wondered about the lack of speed in my connection to  [post id=109]Linux-Server[/post].  This was due to the fact that all LAN connection from 2-4 are run in green mode per default, so their speed was only a arround 100MBit/s. Deactivating the green mode solved the problem.
Uploading pictures to  Google+,  flickr or my Fotoblog is now a lot faster 😉

After Adobe published a Lightroom mobile version for iOS last year they published the corresponding  Android version last week. I can't play arround with it, since i don't own a Cloud version. But according to the compatibility list the app could only be used on a smartphone like my Galaxy SIII but not on a tablet like my [post id=60] Nexus 7 2013[/post]. This limitation doesn't make any sense to me. Why doesn't Adobe not allow image processing on a tablet with a 7″ or 10″ display. I don't know if the cpu of a smartphone is powerfull enough to process large raw files or highly compressed  [post id=514]DNG[/post] files.
I hope that some of the articles on this blog gained your interests and i look ahead to your comments/suggestions. And don't forget, i installed a feed for you via feedburner . And next week we'll take a look on a fun lens.
ciao tuxoche