Last week review 46/2015
|
Post update on 14.Aug.2016
Last week review 46/2015 and it was a very mild november so far … but this will probably change next week …
In this weeks article weeks [post id=1257]article[/post] we took a look on another raw converter the  Zoner Photo Studio 18 , a program which costs and is available for Windows systems only. I tried out the software on my notebook which has 8 GB of RAM installed with Windows 10. I didn't have any problems with Windows 10 and Windows 8.1 on my desktop. A list of supported raw formats and cameras can be found here.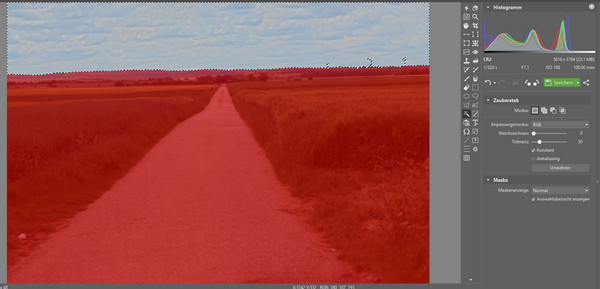 The program supports 3 mods, the browser mode and 2 mods for processing the images. With the development modul you can process the images non destructive and apply changes that effect the whole image, like contrast, saturation or white balance. The editor mode is able to process changes locally to the image, like a graduated filter, but you have to save the final result in Tiff format for example, which is a disadvantage compared to Lightroom.
Talking about the speed converting raw files to JPEG/Tiff files the program sorts in after Canon own raw converter DPP.  I updated my article [post id=114]raw converter speed comparism[/post].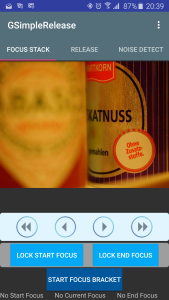 As you probably know i love to do focus stacks, either with a macro rail or with a little help of DSLRController. I know heared about an app in the german DSLR-Forum which should make stacking available to my [post id=728]Lumix G6[/post]. So i downloaded the app  GSimpleRelease and tried it out with my [post id=1068]Samsung S6[/post]. But too bad probably the WLAN modul on my Lumix G6 isn't working correctly because i wasn't able to alter the focus with the app (and it is not working with the Panansonic Image App either)
So now i have to decide to sent my Lumix camera in for repair hoping that Panasonic is able to fix it,because the example published in the forum looked great.
Another idea is tracked by some studenst of the  HTW Berlin univerity with the tool  Akiwi, a tool generating a keyword list after uploading your own image from 22 million images hosted on fotoalia. The keyword list can be used for your own system via  Copy&Paste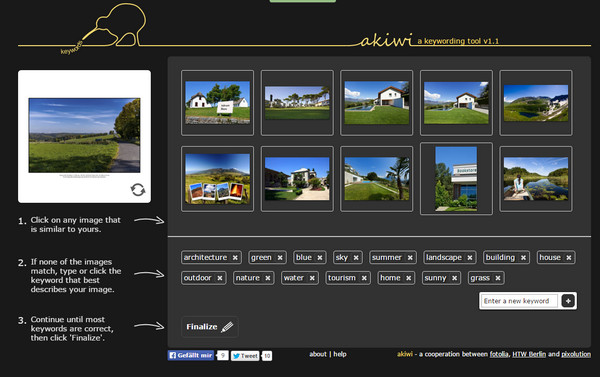 After uploading a landscape image akiwi suggests a couple keywords like summer, green blue an so on. Non fitting keywords can be deleted and you're able to add your own keywords. The keywords are in english but for the uploaded image a keyword  architecture is suggested, which seems to be wrong at least for my uploaded image. A fine idea made as a proof-of-concept and i hope the tool will be developed further.
An eventful week and i  hope that some of the articles on this blog gained your interests and i look ahead to your comments/suggestions. And don't forget, i installed a feed for you via feedburner .
ciao tuxoche