Lightroom Mobile 1.4 now freely available
|
Post update on 14.Aug.2016
Just seen in the Play Store adobe release Lightroom Mobile version 1.4.
Calling Google Play the update for version 1.4 of Lightroom mobile should be available. I installed it right away on my [post id=1146]tablet[/post]
But even in Adobe's blog post there is no detailed list of improvments implemented in the new version, with one exception. You don't need a Creative Cloud subscription anymore to use Lightroom mobile on Android devices.
Of course a subscription is still useful if you plan to process your images on a desktop pc or laptop. This are very postive news, but i'll guess Adobe is going to keep their image as a global player when it comes to images processing. There are a lot of potential customers, since Android Lolipop it is possible to [post id=133]DNG[/post] raw files on smartphones.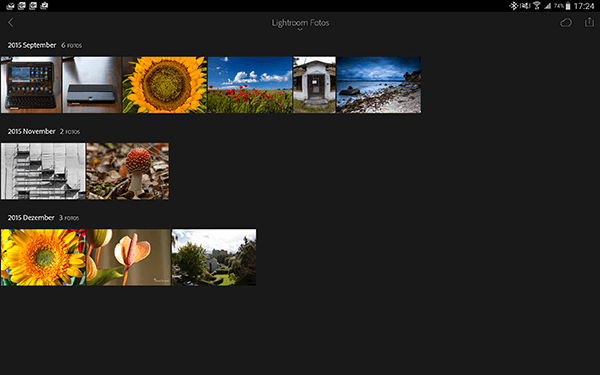 But Lightroom Mobile sticks to JPEG, DNG and RAW files from my [post id=813]Lumix[/post] camera. Canon RAW files are not recognized and can't be added to Lightroom Mobile, but this i'll report on later.
As a consequence the options to share an image were extended to a great deal, now you'll find  Google+, TSU, Facebook, Whatsapp and so on as possible sharing options. Compared to other apps Adobe is closing up the standard
But nevertheless Adobe got rid of the subscription force, but there still seems to be a need for registration just like with [post id=1314]Premiere Clip[/post] at least Adobe blog post doesn't answer this question clearly
What do you think about Adobe's decision (ok they did it already with the iOS version), making the app more attractive to the every day user on his smartphone or tablet?
Just drop me a comment and i'll be happy about your questions.
ciao tuxoche