Image processing desireable or required
|
There is sometimes a discussion in forums or blogs, which on the one hand side prefer the raw image or demand it because of the closeness to the truth, in sense of documentary photography. On the other hand there are a lot of people demanding to process every image.
Introduction
Both demands are based on the raw image from your camera. We are not talking about JPEG, but even JPEG out of the cam are processed by the JPEG engine of the camera. But even if i only export a raw image to JPEG with the favorite raw converter, the result depends on the configuration of the converter. Nevertheless i prefer image processing 😉
The base pictures
On a foto tour to the Hohes Venn i made those two pictures: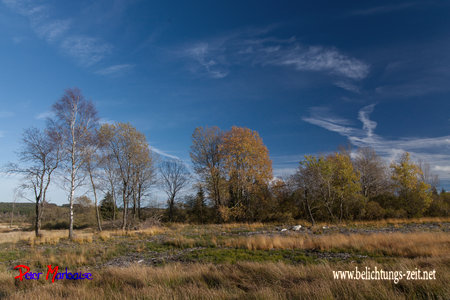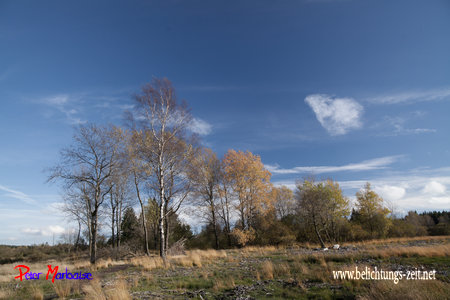 Both were taken with the Tamron 2.8/28-75mm, my favorite allround lens on the 5D MK II. And both were taken using a polarizing filter.
The second picture is already pretty good, but the first lacks of contrast and maybe, yould say, it's a little bit underexposed.
The processing
Both pictures were increased in contrast by [post id= 161]Perfect Effects 8[/post], a program that comes with plugins for Lightroom and Photoshop.
This was the only manipulation done on the second image, but for the first picture further processing was required 😉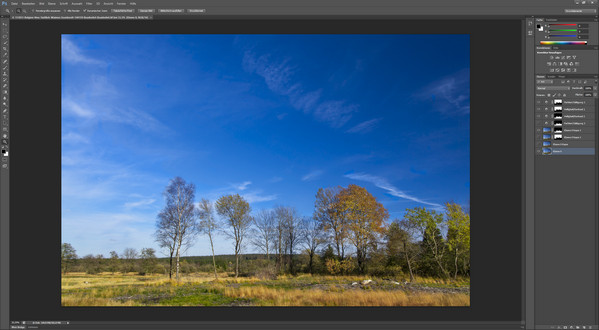 In Photoshop different layers for the sky and the foreground were used to increase/decrease brightness, contrast and sdaturation. The required masks are generated pretty quickly using the quick selection tool. Ok this doesn't result in perfect mask right away, but you can improve the edges by retracing them with a pushed ALT button. In these caes i save the resulting image with the layers included, even though the images size is increased, just in case, i want to work on the image again.
A detailed tutorial an the masking technique can be found here
Ok satisfied with the result, i also exported a b/w version. If you are interested in the final results, just follow this link.
Conclusion
Ok you can discuss if you like the processing i've done at all, but on the base, the question is if image processing is required or not. I'll say yes, because we have the opertunity to optimze a picture by image processing. But using RAW you have to process each image, first of all apply lens correction and the corresponding camera profile.
To me it not the question if it either Photoshopo or Lightroom, for me it is Photoshop and Lightroom 😉
What is your opnion, doing processing to enhance a picture or only doing the least required processing on an image. Just leave me your comments/suggestions or happily questions.
ciao tuxoche
[tags]Lightroom,Photoshop[/tags]