A small pc using the Asrock Deskmini H470
|
In the meantime, a very large part of my work also takes place in the home office, so that due to the increased energy prices, smaller models are being considered.
Introduction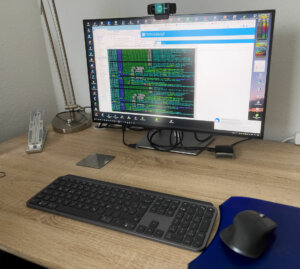 My regular PC based on the Ryzen 1700x draws about 70W from the socket even when idle. If you then realize that such a PC quickly runs its 8-10 hrs/daily in the home office, then the power costs add up relatively quickly.
But for the typical office applications you usually don't need a powerful PC with the appropriate graphics card, several hard disks and corresponding memory expansion.
So I went in search of a small, above all power-saving PC.
Beelink U59
First I came across the Beelink U59, which was available with 16 GB RAM and a 512 GB SSD as an offer on Amazon. It was a tiny device in terms of size and the technical specifications promised sufficient performance for regular office use.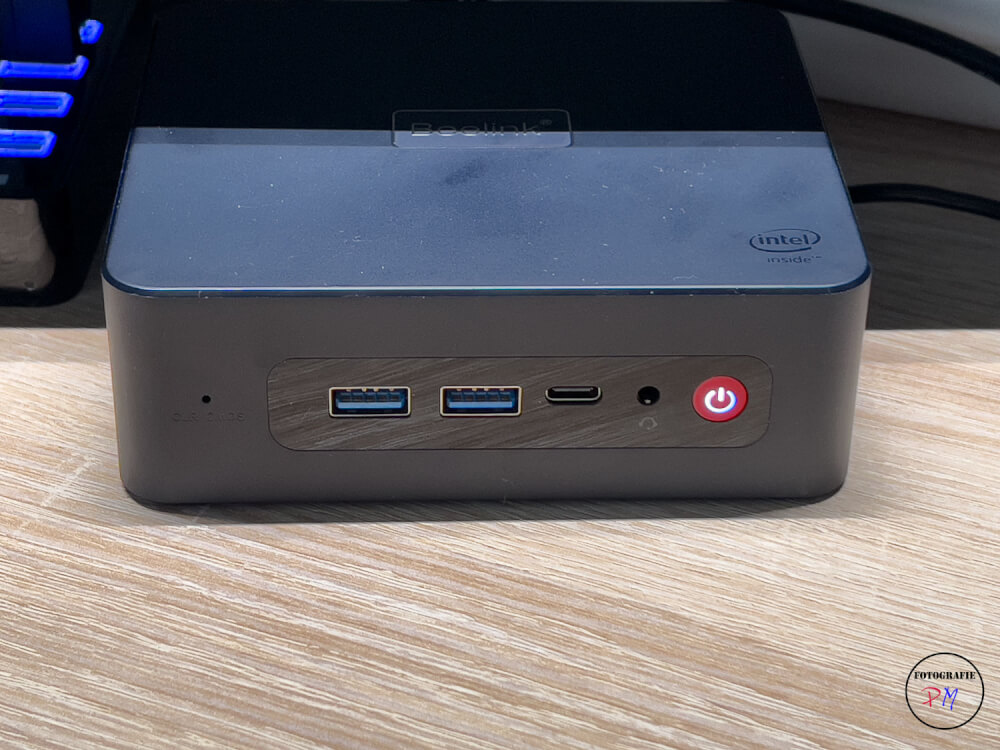 Windows 11 was already installed and activated and everything ran smoothly. The connection to my Dell U2722DE was via HDMI and the number of other ports was more than sufficient to connect a stick or external drive.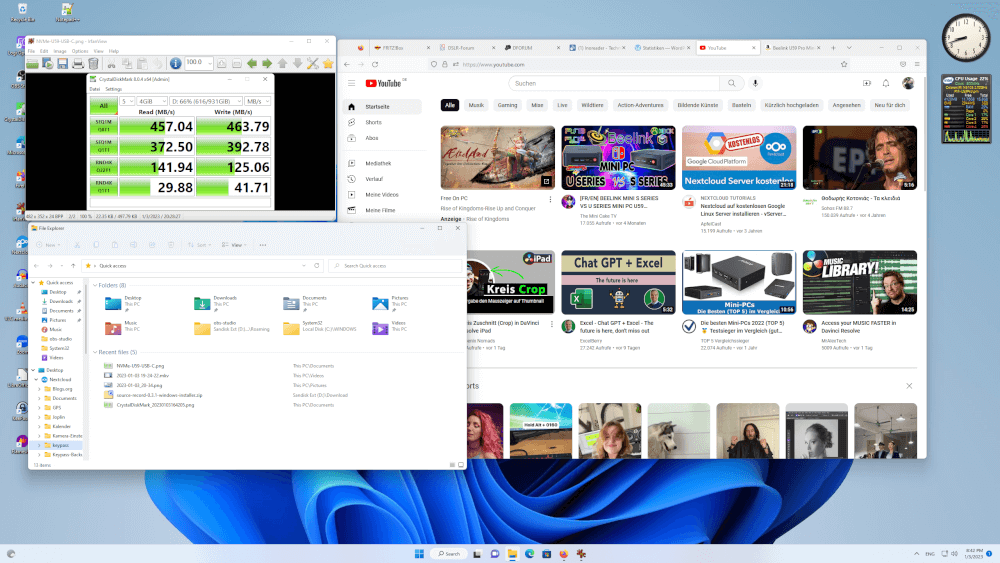 The internal SSD was only connected via SATA and thus worked with reduced read/write rates. Nevertheless, the almost 480MB/sec. were sufficient to start the system or programs.
However, the CPU, an N5105 Celeron, was a bit weak, because the CPU load came close to 100% with some browser tabs or a Zoom conference. Larger Excel spreadsheets also became a problem despite the 16GB main memory.
Since there was also a problem with the on/off switch, I returned the device.
If you can live with the offered performance, you get a device that only consumes 7-8 W in idle, and that would already be a difference to a regular PC.
I have recorded a small video about my experience:
Asrock Deskmini H470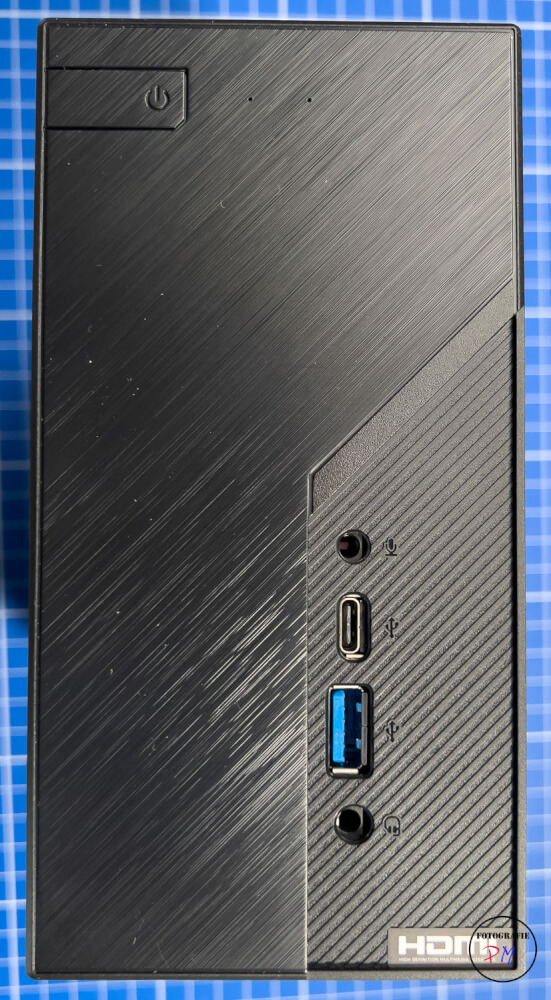 After appropriate research I had to find out that the ready Mini PC also become quite expensive quite fast, if one would like to have a little more performance.
I found the Asrock Deskmini H470, a combination of a very compact case and a very small motherboard. The case is with 155x155x80mm very small, but a bit bigger than a typical mini PC like Beelink or Minisforum.
H470 describes the chipset and there we are with Intel CPU with LGA1200 socket of the 10th or 11th generation. The case is also available as X300 with a corresponding socket for AMD CPUs.
This is then also in contrast to the ready Mini PC a kind of self-construction solution.
However, you only need the CPU including fan, RAM and an NVMe SSD. If you need more space, you can also install 2 2.5 inch Sata SSD or HDD.
However, RAM is required in the form of SO-DIMMs, i.e. the bars that are installed in laptops.
The other ports are found on the back. USB-C, Displayport and HDMI are present, as well as additional USB-A ports and a GB RJ45 port. A corresponding module is available as an accessory for those who prefer to access the Internet via Wi-Fi.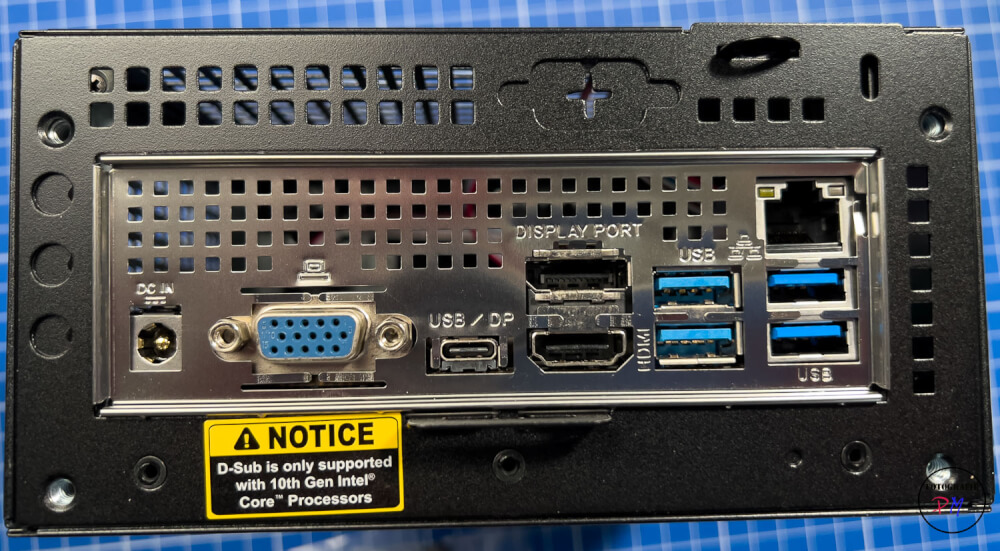 When choosing the CPU, we had to decide whether to use a 10th or 11th generation CPU. In any case, the TDP must not be greater than 65W.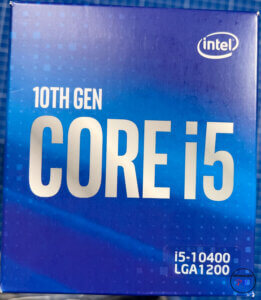 The difference to the 11th generation was too much for me, even if a CPU of the 11th generation would have allowed to run the NMVME with PCi 4.0 speed. The choice therefore fell on an i5-10400 from Intel. It might have been just an I3, but with a price difference of only about 20,– € the choice in favor of the I5 was easy. Moreover, 6 cores are already available here.
That was rounded off by a 1 TB NVMe from Western Digital as well as 2 16 GB RAM slots.
Assembly and mounting were really easy and the fan of the I5 fits exactly. You are then rewarded with a shapely and above all compact case.
Performance
I installed Windows 11 Pro here to try it out. This is also because the Ryzen 1700X CPU is not compatible. If you run a Cinebanch R23, for example, the results are quite good.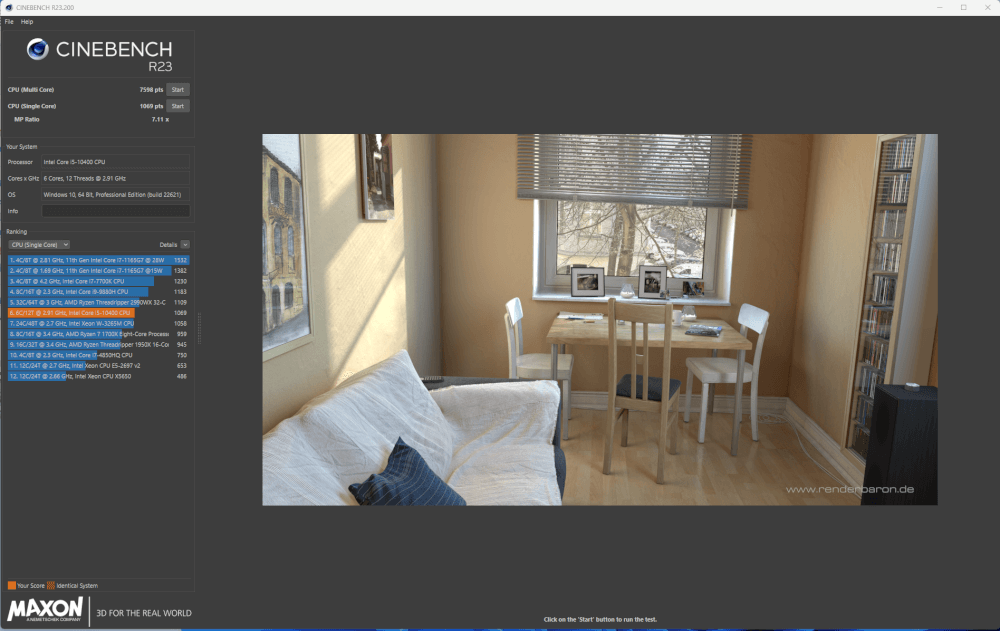 The single core value is even higher than that of the Ryzen 1700X (938) while the multicore value of the Ryzen is higher with 9082. However, this may also be due to the fact that the Ryzen is an 8-core and is clocked at 3.775 GHz in my case.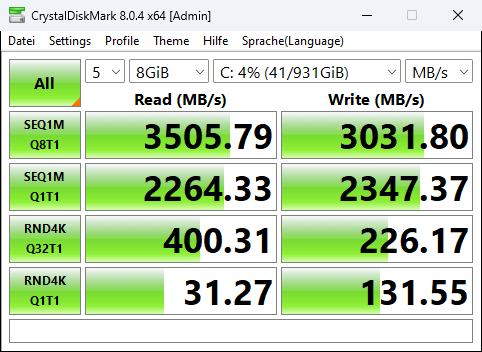 As expected, the internal NVMe is in the range of 3,500 MB/sec. This is also quite a common value for PCI e 3.0.
.
If you need more here, you can buy a corresponding PCI e 4.0 NVMe, but then you also need a (more expensive) 11th generation CPU.
Exactly because of the fact that such speeds are not needed for an office PC, I deliberately bought the WD SN750, which can only deliver this value anyway.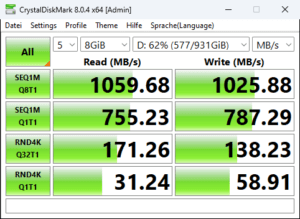 If you want to connect another (external) drive, there is both a USB-C and a USB-A port on the front.
As you can see, an external NVMe drive achieves very good rates, but at the USB-A port.
Only this port is USB 3.2 Gen 2, while the USB-C port is USB 3.2 Gen 1. This seems a bit strange, but I can live with it.
In practice
As expected, this configuration is sufficient for office use, regardless of whether it is the various office packages, web browsing with many tabs and also email is absolutely no problem. And 16 GB would very likely have been enough for that as well.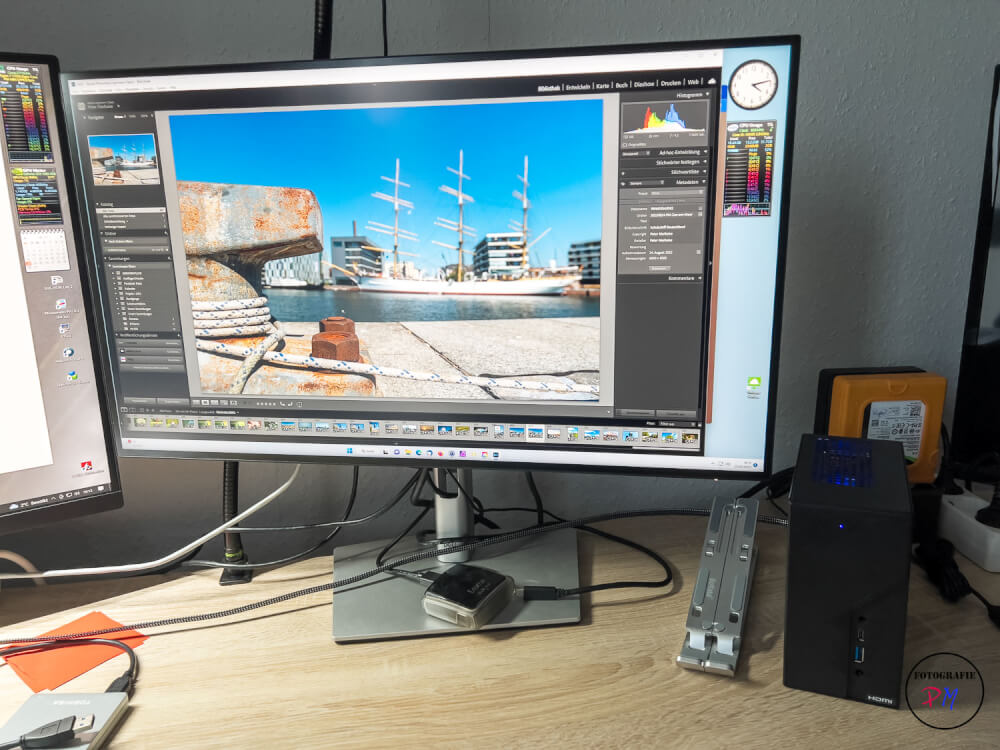 also requires less graphics performance. And here this system is practically on par with my Ryzen 1700X system. Images from a stacking sequence once with 25 and once with 31 frames are exported as full size JPEGs in almost the same time on both systems. (34 and 39 seconds respectively)
I then had the fun of installing Da Vinci Resolve once, but that overtaxes the CPU and graphics unit, even though the I5 CPU already supports decoding/encoding H264/265 on the chip.
This can also be seen from the fact that I once test converted 6 videos with just under 5 minutes in length with Handbrake. On the H470 with QVC support this took 15:42.00 min, while on the desktop PC with Ryzen 17000X and Nvidia NVenc support this took only 6:51.50 min.
And power saving?
The small PC needs approx. 15-18W in idle. That's twice as much as the small U59, but I have completely different power options here. Besides, this unit doesn't run 24hrs straight through, so I think this value is fine.
What I need to check again is the fan control. From about 70° C CPU temperature, the fan howls and spins relatively high speed. On the other hand, I only reached this value during my tests with Da Vinci Resolve or with CineBench. Otherwise, it hardly comes close to such a load.
Conclusion
For me, this change was worth it, because I have considerably more performance and reserves for a little more than 100,– € more than the Beelink U59. And when I don't need it as a homeoffice computer anymore, this computer will maybe succeed my Raspberry Pi and be configured as a proxmox server.
ciao tuxoche