Luminar NEO releases smaler updates
|
Otherwise you always get a mail from Skylum as soon as there are changes in Luminar NEO. This time it was not so 🙁
Introduction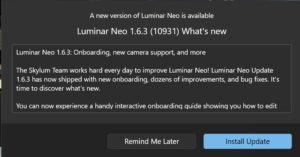 There was no mail about the version update, so only by using the program again I became aware that there is a version 1.6.3.
But maybe the update was released very soon, because some of the notes were not translated yet.
A more detailed description about the news and improvements can be found here.
Onboarding tutorials
Luminar creates a new collection with tutorial photos on update
We already know the photos, that are the sample photos, as they are also used with the initial setup of the catalog. However, these photos are now provided with different markers, which jump to the corresponding setting in the development module when you click on them.
This is certainly a useful feature for beginners and makes it easier to find your way around the program.
AI masks and sky replacements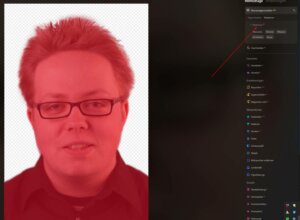 In the area of AI assisted masking, there should also have been improvements that allow a much more accurate work.
Even though I am not a portrait photographer, it really seems to me that the subject is masked much better. Especially in the hair area or where the object slowly becomes blurry the masking is much improved compared to the previous version.
When first setting the sky, the AI is supposed to recommend a sky that fits well with the currently selected photo. However, it doesn't seem to work quite as well, because there is often a night sky here, or the clouds  doesn't quite match the landscape. But this is certainly not objective and depends on personal taste.
Export Acceleration
According to the Skylum site, the export of photos has also been improved.
Here I must point out, however, that Luminar is extremely slow here. I have exported e.g. sets of 25 or shots from a focus stack to JPEG, which takes 9 minutes in Luminar NEO while it is done in Lightroom Classic in under 1 minute.
But the loading of RAW files in the development module or even in the change from catalog to single image view has actually become a bit faster.
Display errors
The images in the catalog overview still appear oversaturated. However, I have now noticed the following in a test catalog.

I can't say for sure if this was already the case in earlier versions. The files are tiff files, but they were created in Photoshop CC and contain layers. Maybe this is the problem.
Conclusion
Besides the RAw support for more cameras, the program has also been improved in parts, to mention here would be the masking. However, there is still an immense need for improvement.
The Winter Sale is over, but you can still order with the code TUXOCHE and save 10,– €.
ciao tuxoche