Big flash for a small mFT camera
|
Sometimes you do need a flash, then natural light just isn't enough.
Introduction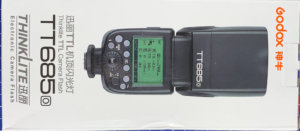 The switch to the mFT system is practically complete and I was able to fulfill some wishes with the fixed focal lengths. Even with the Canon equipment I had a flash of course, even if I didn't use it much. Now and then it just does not go without flash. Now at the weekend finally arrived the Godox TT685O, a system flash unit with support of the functions for Olympus/Panasonic cameras.
This time I also had some problems with the Amazon delivery. The Godox flash is available for Nikon, Canon, Fuji, Sony and also for Olympus/Panasonic. And although I had ordered the variant O I got 2x a device for Fuji cameras.
Equipment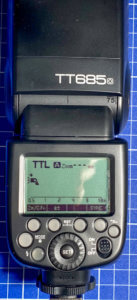 Handling and equipment are first of all usual for a flash in this size. It starts with the swiveling and rotating flash head with the zoom reflector. This also allows indirect flashing e.g. over a wall becomes possible. There is also a movable wide-angle diffuser and a Hilite diffuser at the top of the flash head.
Then comes the rather large and easy to read display, where the different modes (TTl,Manual,Stroboscope) can be set. In manual mode the flash can be regulated down to a 1/128 flash output.
The Godox TT685 is HHS capable and down to a 1/1600 sec. I have tried this with success.
The guide number of the flash is given as 60, but with a zoom reflector set to 200mm. If a larger angle must be illuminated, the light output is reduced accordingly.
Unleashed flash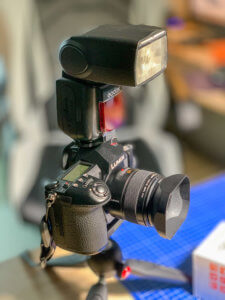 Normally, the flash sits on top of the camera, and here the flash is also the right size for the Lumix G9.
However, you will of course get the typical flashed photos if you don't at least try to flash indirectly over the ceiling or a wall.
The Godox TT685 also has a built-in radio control. It can control other flash units (master) as well as be controlled by other units (slave).
In addition, Godox offers radio triggers that come instead of the flash unit in the center contact of the camera and can control one or more flash units here by radio.
Conclusion
With a price of just under 110,– € you get a solid and well equipped flash unit, which is also available for most well-known manufacturers. Whether I now expand with several flash units and possibly radio triggers, I do not know yet. What I will still get me, however, is a holder with which you can attach a softbox to the flash.
ciao tuxoche