I'm looking quite a time for a storage and transport solution for my [post id=145]Yongnuo[/post] flash lights and the corresponding [post id=149]radio triggers[/post].
I found one on amazon, the X-Case with the dimensions of 33x28x12 cm, almost ideal size for the flash lights and the radio triggers. The correct name is the X-Case Nc-5135, which is dust- and waterproof.
The case is laid out with foamed material inside, which is cut cubic to ensure an adaption to the objects.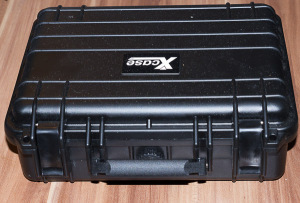 The plastic material seems to be very stable and in combination with the inside foamed material even sensitive objects should be safe in this case. Since my backpack (a Kata N-30) is almost full there is no room the flashlights and the radio triggers had to be transported seperatly. Since i didn't own a case i could happen that sometime the radio triggers cashed together.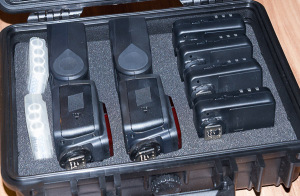 But now with the X-Case everything has its place including additional batteries or better rechargeable batteries. I only use Sanyo eneloops, which are perfect for the flashlights and the radio triggers, because they keep the charge over a long period.
The dimensions of the case are ideal for this application, also for the height of the case, because you can laeve a layer foamed material under the flash lights and the triggers so there than sufficient stuffing arround the equipment.
I'm staisfied with the case which only costs arround 25,– €. Too me this case is the ideal storage case for sensitive euqipment and if want a larger case even a camera and its accessories.
What do you think about this type of caes for your equipment or do prefer a bag? Let me know in the comments and of course questions are welcome too.
ciao tuxoche