Last week review 41-2017
|
Last week review  41-2017 and for two days weather was like golden october but now;-)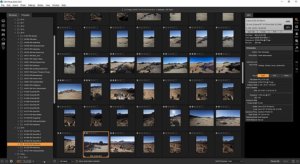 This week i took a look on the announced version 2018 from ON1 Photo RAW. The final release should be availbale according to the announcement arround end of october. The new version will cost $ 120,– and releasing this new version ten months after publication of version 2017 confirmed my fears that ON1 will almost have the same price as the Lightroom/Photoshop CC combination and therefor you might as well stick to the original.
There is a big improvement in the new version, now you add layers in the development module without switching to the layer modul, which still exists.
  ON1 Photo RAW 2018 is going the same like most of the software arround and implmented an HDR and a panorama stitching function into their RAW converter. Doing HDR from a sequence i occur purple areas in the resulting image and daving the resulting is done in an new format .onphoto, why not save the HDR as an TIFF file.
Stitching panoramas the application leaves out images without any warning, even though these image could bestitched correctly with other tool even with Lightroom.
Maybe its due to the beta status, but right now i can't advice a preorder of the program and both of the new functions should have be left out, because there are other tool doing a much better job.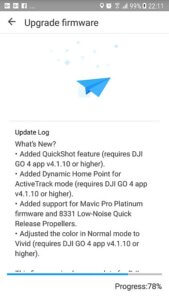 Almost 14 days ago there was a new firmware release available for the DJI Mavic Pro to version 1.4.000, which i already installed. Some of the functions of the new firmware like a dynamic home-point setting requiere a DJI Go App version 4.1.10, which was made in the play store available this week. I installed this version but because of the rainy and stormy weather in the past i couldn't fly and try out this new version.
But i will try it out as soon as possible but according to the description there shouldn't be that much new stuff.
And again this month Patchday, where Microsoft patched more than 60 bugs while Adobe didn't patch anything in their flash player even though this software still contains security problems,
But anyway this was an interesting week and I hope you like the blog posts and i'm looking forward to your questions and comments. Next week we'll take a look on another program from 2018 😉 and this is Aurora HDR, which is available for Windows systems now and we'll wait for the rumors to become true that next week a new Lightroom version will be published.
ciao tuxoche