DSLRMaster 2 beta is a so called tether software to control a Canon brand DSLR via a USB connection.
Introduction
With a tether software you have a lot of options to control your camera for the various purposes like for intervalls, focus stacking on so on.
The application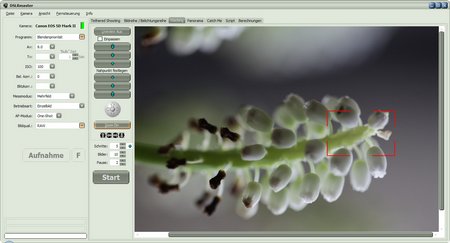 A longer tzime ago i used version 1 of DSLRMaster a lot, because i owned a Samsung NC-10 netbook  Since the first beta of DSLRMaster 2 was available by Vulpesoft aka Manfred Fuchs back in July 2013, i allready made a little screencast on my german blog.
DSLRMaster needs a Windows PC or Laptop or a tablet, running Windows. The following screencast was done on a Laptop with Windows 10 installed.
Since the final release of DSLRMaster 2 is announced for 2015 and a upgrade for licensed users of version 1 is promised to be free of charge, i took a first look on this most recent beta version.
The first impression
Just take a look at the video:
The option to do a focus stack automatically by defining a start and an ending point and let the application go thru the focus range seems to make problems. This might be cause since focussing on the liveview and determine sharpness in a certain  area seems to be complicated. I tried this with a flower and an old graphic card, but i couldn't finish a stack. But maybe the author can fix this problem, because this option is one-of-a-kind to the software.
The other functions like intervall, HDR sequences (in M mode only) are more or less state-of-the art and available in other software products too
Most important to me in a tether software are basically 2 functions
Intervall trigger (in a combination with HDR sequnece)
Stacking
Other features like the different calculators or the catch-me function in this application are not that important, because i don't have any use for it. Andere Ausstattungsmerkmale, wie etwa Rechner pp. oder wie bei diesem Programm die Catch-Me Funktion, sind eher untergeordnet, weil ich dafür keine Einsatzmöglichkeit für mich habe. A DOF– calculator is a nice feature, but i reported my doubts in a former [post id=664]article[/post].
Conclusion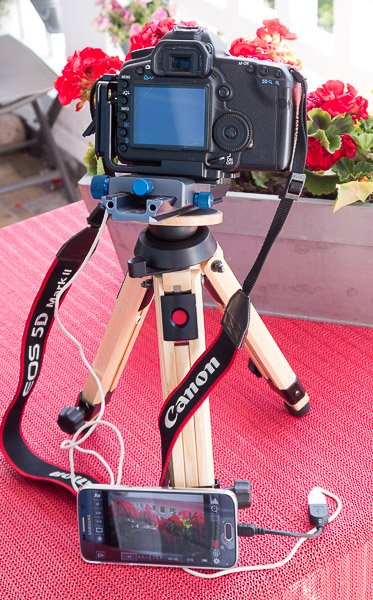 I surely take a closer look on DSLRMaster 2 as soon as it is finally released. The free of charge upgrade option for users of the license 1 is very positive. But the developers announcement to increase the shareware price only would be acceptable if the autostacking function is working properly.
On the other hand a tether software which fullfills my needs is ideal and which i carry with me, and that is DSLRController  on a Sasmung SIII or lately on the [post id=1066]Samsung S6[/post].
I don't leave home without my smartphone and a fitting OTG cable is in my backpack, but i don't usually carry a notebook.
What do you think, Windows software or maybe an Android software for your smartphone or tablet? I'm looking forward to your questions and your comments.
ciao tuxoche