Xeon E3 1230 versus I-4770k
|
The chance to let my Xeon E3 1230 play against an Intel I- 4770K , was found a few days ago . The comparison will show whether the XEON has an unbeatable value for money, if you can do without to overclocking the cpu.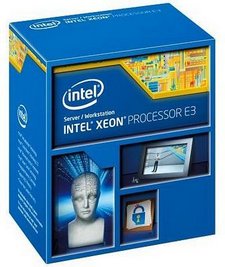 In [post id=81]upgrade desktop PC I [/post] and [post id=91]Upgrade Desktop PC II[/post] , I had already explained why I have decided to use the Xeon E3 1230 V3.
The main reasons were that I already have a seperate Graphics Card and I do not want to overclock . If it were just about the image processing using Lightroom and / or Photoshop he built-in graphics card of the I – 4770K CPU is more than adequate , but doing video rendering you realize the advantage when Premiere briefly transmits 1 GB and more in the memory of the GPU.
But let's go to the actual comparison , I avoid deliberately the word test 😉
Compared requirements
For the comparison between the CPU an Asrock H -87 board with 16 GB of RAM was used, the operating system on a regular HDD, SSD installed for Adobe cache and catalog instead . As the system now been updated to [post id = 1736 ] Windows 8.1 [ / post] , the old comparisons were done again for this comparison between the 2 CPU . Between the comparisons only the CPU has been replaced. To avoid caching effects as far as possible , reboot between each application call was done.
The results
| | XEON E3 1230 V3 | Intel I-4770k |
| --- | --- | --- |
| Photoshop Test | 12:39 | 12:36 |
| ZIP on SSD | 6:09 | 5:52 |
| ZIP export HDD | 7:05 | 6:58 |
| Export Lightroom | 5:42 | 5:35 |
| Video rendering | 1:08:56 | 1:07:42 |
What I could not resolve was the fact that there is difference when zipping 400 files a role , whether this takes place on a regular HDD or an SSD , while a Lightroom export of 448 files as 16 bit Tiff isn't impressed , where the export is taking place.
Conclusion
The results show very nice, doing nothing wrong with the Xeon in the field of image and / or video editing. You get a fast CPU at a really low price. If you don't have a graphics card , however, the pendulum could deflect in the direction of the I- 4770K .
My comparison demonstrates the performance classification of the Xeon E3 1230 CPU just below the i 4770K , and I can only say that I am satisfied.
What are your experiences and what CPU do you use . Just leave your comments or suggestions, and questions are also welcome
ciao tuxoche