In first part of this article i reported about selection and installation of the new hardware. In addition i made a first little test to check up the speed up gained by a Xeon V3 CPU.
Today i write about the first experiences and the impact of the new CPU particular photo and video editing.
Desktop PC Upgrade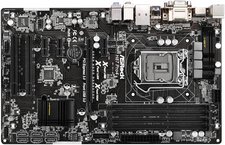 The ASRock H87 Pro 4 is until now , as far as one can judge by the short time without any problems .
I've also now installed Windows 8, however, there is one unknown device in the device Manager remains. I'll have to check up later and take a look if there is a driver on the manufacturer's site here . However, the implementation of the system has first priority 😉
The system remains pretty cool, even at longer full load situations when rendering a video, rarely even higher temperatures than 60 ° C were found and i just use the included fan . Now it would be interesting to see how the temperatures would have been if it was quite hot outside, but i have to check this one later
Meanwhile, Lightroom and the Adobe Creative Suite are installed, and trying out and testing could begin . I used the photoshop test discussed in the german dslr -forum.de , i rendered a video of 23:56 min length ,suitable for Youtube HD with a bit rate of 8 fps with Premiere Pro.
| | i5-760 | Xeon E3 1230 v3 |
| --- | --- | --- |
| LR 4 Export 448 RAW | 11:14 min | 7:36 min |
| Photoshop Test | 17:68 sec. | 11:48 sec. |
| Video render | 2:14:38 Std | 58:21 min |
And here you can see how big the differences are , but the blast is the video rendering. Here, however, also showed that Premiere Pro has all cores equally balanced high.
For me it is clear that the upgrade was worth it . I also think that now stitching of large panoramas also should be considerably faster.
As the article Linux NAS already stated, my photos are on a Linux server and not local. Only the cache and the Lightroom catalog located locally on an SSD . These conditions were of course also observed for this comparison .
And still has me as I am just interested in another comparison . Since I still had a Seagte Barracuda 2 TB , I have installed in the desktop PC.
I have repeatedly done the zip commands from the [post id=81] Part I [/post] and exporting the RAW files. And what can I say , this measure brings again an improvement of 7:36 min ( Raws on server) to 7:04 min. When zipping the comparison is 6:43 min to 6:28 min. Especially when export with Lightroom , the difference is not that great , but this differences caused me to store photos and videos locally , and really to look at the Linux server now as a NAS, for a first backup of the data
Although this means my backup scripts needs some change, but in consideration of the benefits is it worth it 😉 but I will report about it soon .
I hope that Part II was interesting for you . Just make a comment or a suggestion, and naturally questions are welcome, too
ciao tuxoche