Backup your installation with Clonezilla
|
Besides a regular [post id=213]backup[/post] it may be reasonable to backup a installation of Windows 7 or 8 on your laptop. This can be done with Clonezilla.
Introduction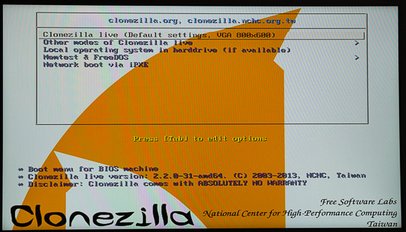 Clonezilla is a opensource tool to backup a harddrive or a single partition. Clonezilla can be installed on a CD/DVD or a usb stick. Clonezilla is not a programm, it's a special Linux distribution.
Backing up a laptop like [post id= 41]Acer Aspire V5-573 G[/post] , you have to setup the Legacy boot option in the BIOS , so the boot option for a usb stick is available after reboot.
After these changes in the BIOS Clonezilla boots from the stick and starts with an resoultion of 800x600px, which can be changed in the setup.
Backup

At the best you should choose the beginner mode. This mode takes you step by step through the different options of Clonezilla. Clonezilla is also able to copy over a network, but i prefer a backup to a local connected USB drive via the disk_to_local_disk method.
You can choose to copy from partition to partition or copy a partition to an image on the destination hard drive.
I prefer a backup from partition to partition, which means that my USB drive contains two partitions. One is for the laptop and the second is used for the backup of the desktop PC. Pay attention that the destination partitions have to be at least the same size or bigger than the source partition. Since i use a Crucial 240 GB SSD in both my latop and my desktop PC as a installation medium for Windows 8, i have to pay attention which destination partition to choose.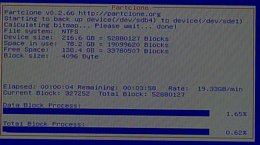 This brings us to one to the main problem of Clonezilla or Linux in generall. The naming of the drives is quite unusual to Windows user. The first drive on the system is called hda or sda, the second hdb or sdb and so on.This could be a barrier for users never get in touch with Linux.
If you overcome this one and choose the right drives Clonezilla copies all blocks from the source to the destination drive. This means that unused blocks are copied too.
Since my laptop offers a USB3 connector the backup is pretty fast. After the backup job is done you'll reboot and change back the boot option in the BIOS from legacy to UEFI. Otherwise you won't be able to boot your Windows 8.1 system.
Conclusion
Besides the problem with drive naming Clonezilla is an excellent and free of charge tool for backing up your installations. I use it very often to backup my notebook, since i install a lot of tools to report on in my blog.
Do you backup your installations and which tools do you use? I'm looking forward to your comments and questions.
ciao tuxoche
[tags]Clonezilla,Acer Aspire V5-573G[/tags]