Last week review 47-2017
|
Last week review 47-2017 and it got really warm this week, but now late fall is coming with full power  😉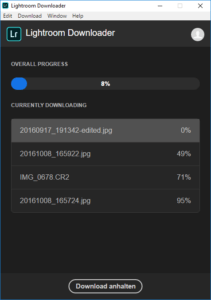 To complete the irritations about the different Lightroom versions (Classic and CC) Adobe additionally released a new app called Lightroom Downloader App. The app is available free of charge for Mac and Windows operating systems and helps you to download your images stored in the cloud with Lightroom CC. The download is done with a certain folder hirarchy with the year and subfolders for the capture date.
To be honest the app supports only the case lets day you ended your Adobe subscription and want to store your images locally again. If you have the regular photography subscription which includes Lightroom Classic the images are downloaded already while synchroized with the cloud and stored locally in a folder you defined in the preferences,
Both apps, the Lightroom Downloader and Lightroom Classic, can't do a very useful thing, that is to convert cloud-based image storage to locally stored images, sind the cloud storage offering 20GB only is probably not enough to store images for a longer period of time.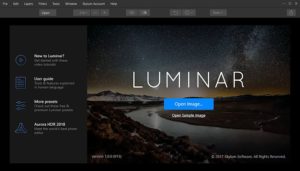 The i want to come back to Luminar 2018, a raw converter which was pushed last month. Since some did use the reduced pre-order offer now there are a lot of upsets at least for the Windows version since most users found out that the software is not ready for everyday use.  so far i can confirm this just like Aurora HDR 2018 which is not able to save the results as 16-BitTiff file. And this is true even there was an update available and still no 16-Bit option. Judt to give it a try i installed the Photoshop CC plugin to use Luminar 2018 as a filter for Photoshop. And now surpise using Luminar 2018 as a Photoshop CC filter will return a 16-Bit Tiff (the layer is substituted with the result of the image processing done in Luminar rather than to do a new layer). So the program code for handling 16-Bit tiff files is already in the app so i don't understand why this is not usable.
Another updates released on friday added the missing workspaces into Luminar 2018. There are defined presets for the workspaces but you also define your own preset. And the company added more options to the export dialog. Now you can define export size and quality in the JPEG-Export, but 16-Bit Tiff export still is missing.
But anyway this was an interesting week and I hope you like the blog posts and i'm looking forward to your questions and comments.
ciao tuxoche