As a  Lightroom CC user you probably get a email from Adobe once in a while noticing you about new products or services. This time i got the email about the availability of Lightroom in the web.
Lightroom via Browser
Calling the url in the email you get to an informational page from Adobe about how to use Lightroom on the web. Usage of this tool or better the synchronisation with other devices including the desktop version of Lightroom requires to log in with your AdobeID and a subsciption of the Creative Cloud. Login is done on lightroom.adobe.com
With this tool Adobe completes image processing from the regular desktop pc or laptop over Lightroom Mobile on a tablet/smartphone to Lightroom on the web.
Design by  Lightroom Mobile
The design and the processing capabailities a lot of elements were taken from Lightroom Mobile.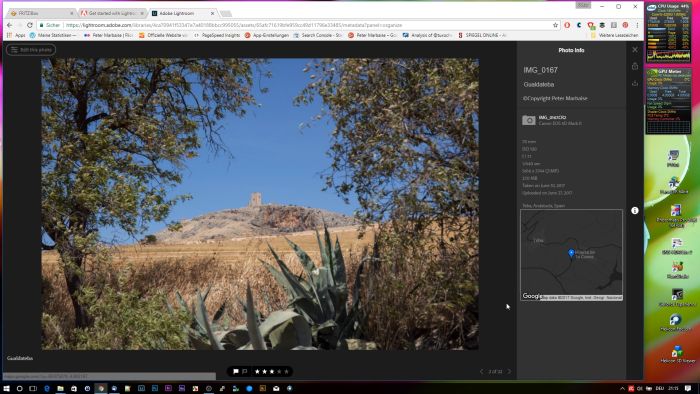 You can alter all kinds of parameters, like brightness,contrast,saturation. Tonal corrections and converting to b/w are also possible. And there is even a DeHaze filter implemented. Local corrections and corrections of specific lens parameters are missing though.
But lets take a look at this video:
Drawbacks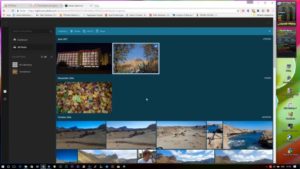 As mentioned in the video first of all you have to upload  the raw file which a size of 215 MB in my case to process the image. If you want to do this while on tour or on vacation it will affect your data volume and stress your patience 😉 It requires a stable and fast internet connections which is not always true.
The sharing option is restricted compared to Lightroom Mobile on a smartphone, because there are the mentioned options only .For example sending greetings to your friends on Google+,Facebook or twitter requires to download a JPEG from the processed image first before sharing.
Because of the needed space on the screen you probably use Lightroom on the web on a laptop (and not on a tablet). Not mentioning the internet cafes if your using a laptop you might as well install the desktop version of Lightroom and avoid all the drawbacks.
Conclusion
I'm not fully convinced on this option using Lightroom on the web. Lightroom Mobile on a good smartphone makes a lot more sense too me, because the RAW files are stored locally even if downloaded via USB from the camera. And sharing to social media can be done with the small JPEG file.
What do think about Lightroom on the web, a meaningful alternative to a desktop installation or the mobile version?
ciao tuxoche